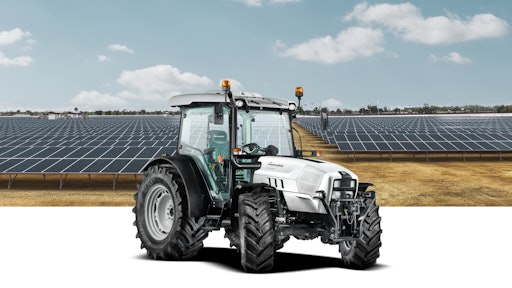 After updating its range of mid- to high-power tractors with the Nitro, Spark and Mach, Lamborghini Trattori has now completed its mid-range family with the launch of the Lamborghini Spire, a new model with unique technical qualities and a bold new character recognizable by the all new white livery embodying style and exclusiveness.
This versatile, compact and extraordinarily agile new tractor is now offered with a choice of new 3 or 4 cylinder FARMotion engines. Equally at home whether in the open field or working in confined spaces and ideal for all applications demanding superior safety, such as working in hilly or mountainous terrain, the Lamborghini Spire combines state-of-the-art technology with outstanding comfort. The latest addition to the Lamborghini family joins and complements the existing R2 Series, but with more engine power. Four models are offered - 80, 90, 90.4 and 100.4 - plus three Target variants, which join the current 60 and 70 hp R2 models. The new series differs radically from its predecessor in a number of areas, starting from the engine: these tractors will be equipped with the FARMotion engine, which complies with Tier 4 Interim emissions regulations and delivers superior power together with lower, more environmentally friendly consumption.
The versatility, efficiency and practicality of this new tractor are equally evident in its transmissions which, in the Spire range, are offered in a choice of two variants (mechanical or three-stage Powershift), combined with either a mechanical or a hydraulic reverse shuttle. The Target version offered for 80 hp (3 cylinder) and 90 hp (both 3 and 4 cylinder) power levels is offered with a choice of two mechanical transmissions with 10+10 or 30+15 speeds (the latter with underdrive and supercreeper gear). The standard version is offered with either 30+15 speeds or a 45+45 speed transmission with three-stage Powershift, allowing the tractor to be driven at 40 km/h at lower engine speeds (Overspeed). This version will also be equipped with a hydraulic reverse power shuttle, with a steering column mounted control lever, SenseClutch, which lets the driver select shuttle response speed, ComfortClutch (clutch control on the gear lever) and Stop&Go function.
For unparalleled efficiency and more effective implement usage, the new Spire is equipped with an open center hydraulic system: while compact, this system is very potent, with a delivery rate of 54 l/min for feeding up to three double action distributors. The rear hitch, which is also available as an electronically controlled version, has a maximum lifting capacity of 3,600 kg, while an additional 1,750 kg hitch may also be installed at the front of the tractor. The dual traction and differential lock are operated electrohydraulically on the Spire and mechanically on the Target. Integral four-wheel braking with wet disc brakes ensures superlative safety, while a pneumatic trailer braking system may also be specified as an option.
The four-pillar cab offers excellent all-round visibility, while the optional high visibility roof is extremely useful for working with a front loader in safety.
Compact dimensions contribute to extraordinary maneuverability: the 100.4 measures just 3.56 m in length with a minimum rear track of 1.50 m, and weighs 3,300 kg. The compact size of these tractors combined with their low center of gravity translate to extraordinary stability, making them suitable for an even wider range of applications.