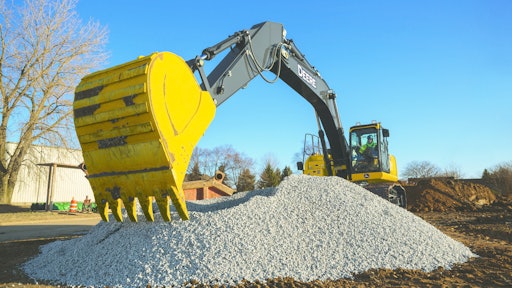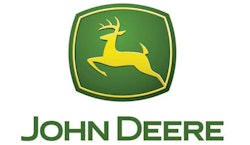 The John Deere G-Series evolution continues with the introduction of the 300G LC excavator. The 300G LC replaces the 290G LC and boasts 19% more horsepower and 17% more swing torque and larger hydraulic pumps than its predecessor.
"The 300G LC hits a sweet spot in the 30 ton excavator market," says Mark Wall, Excavator Product Marketing Manager, John Deere Construction & Forestry. "It's bigger and more powerful than the 29 ton machine and boasts all the popular G-Series features customers expect from John Deere. This model will greatly benefit those in the underground, road building, energy, commercial building, and pipeline industries."
The 300G LC features a 223 hp certified Final Tier 4 John Deere PowerTech PVS 6.8L engine. Operators don't have to worry about diesel particulate filter (DPF) cleaning as it still occurs automatically with no impact to machine operation. After extensive testing, John Deere's DPF can go up to 15,000 hours before ash removal. Like its counterparts, the 300G LC features excellent total fluid economy (diesel fuel and DEF).
To increase uptime, John Deere designed the new 300G LC with a larger hood for improved engine access. For convenience, the nine-pin diagnostic connector was moved into the cab to reduce diagnostic testing time for technicians. Other improvements include a single side ground level fluid filter service, which moves the engine oil, fuel, and hydraulic pilot oil filters to ground level on the right side of the machine and adds a service door for easy access to change filters.
Sensor mounting brackets are welded to the boom, arm, dogbone, counterweight and mainframe at the factory, enabling immediate install of Topcon, Trimble, Leica or other grade reference systems. A programmable thumb attachment mode is also available and enables operators to program oil flow for thumb attachments with the monitor.
Customers will appreciate the new handrails as well. The handrails help maintain contact when climbing the upper structure to service the engine, improving service accessibility and security. The optional light package now includes a hood light to provide greater visibility to the engine compartment to easily see daily service points. The hood light is ideal for customers who work in dark or low light environments, or those who run multiple shifts and may need to conduct late night fuel and lube operations.
Operators looking to get the most out of their 300G LC Final Tier 4 excavators can rely on Ultimate Uptime featuring John Deere WorkSight. With Ultimate Uptime, operators receive pre-delivery and follow-up inspections; three years of JD Link telematics, machine heath prognostics, and remote diagnostics and programming capability; and the ability to add additional dealer-provided uptime solutions to customize the package to individual needs.