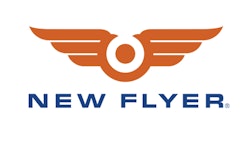 New Flyer of America Inc., a subsidiary of New Flyer Industries Inc., the leading manufacturer of heavy-duty transit buses in the United States and Canada, announces that the Regional Transportation District (RTD) of Denver, CO, exercised options for 18 additional heavy-duty 60-foot Xcelsior clean diesel buses (36 equivalent units or EUs).
RTD has an active transit bus fleet of 1,032 buses with an average bus fleet age of nine years. The addition of these 18 Xcelsior articulated buses will help RTD serve their 2.8 million service area population encompassed in 40 municipalities, six counties and two city/county jurisdictions.
The options, valued at $12 million, represent Denver RTD's fourth such commitment to purchase transit buses from New Flyer in the last two years and brings the total number of New Flyer buses built for Denver to 110 (220 EUs).
"Adding New Flyer to our bus fleet has helped us embark on another exciting chapter in RTD's long history of providing the best possible vehicles and service to our customers," says Bruce Abel, RTD Assistant General Manager of Bus Operations. "We look forward to continuing a highly productive working relationship with New Flyer that benefits our passengers, bus operators and maintenance teams."
"We're proud to be awarded yet another contract from RTD," says Paul Soubry, New Flyer's President and Chief Executive Officer. "This is a first class transit agency that operates in a very challenging and demanding operating environment, and we are confident that our Xcelsior buses will continue to play a key role in RTD's service excellence."