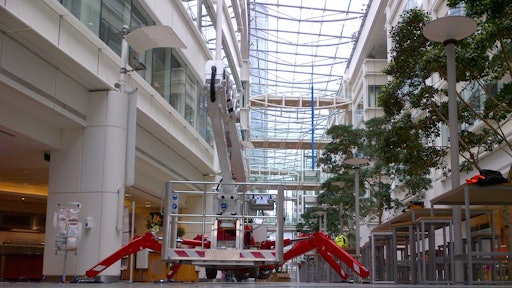 On the highway leading to the center of London, is located the GlaxoSmithKline (GSK) headquarters building, a pharmaceutical company engaged in the research and global development of ethical drugs and innovative vaccines, medicines and other OTC products.
Designed by Hiller and RHWL Architects and opened in 2002, the building features 16 floors, is completely covered with glass facades and reaches a total height of 71 m.
This is the setting of a recent supply by the British Palazzani Dealer - TCA Lifting Limited – of two Spiders RAGNO TSJ 30.1. The wheel version platforms were supplied with two different powers, to replace the old spider GSK used for over 20 years.
One of the two machines was delivered with three powers: diesel engine, electric and battery pack. This configuration has been specifically requested by GSK, to operate the machine in underground storage by batteries, into the building by electric motor and along the central "road" by diesel engine.
After long evaluations, Ragno TSJ 30.1/R was considered the best model to choose, because of its compactness, low weight and the multiple possible lifting positions.
The two Ragno TSJ 30.1/R will be used permanently in the complex GSK for cleaning windows and for the various room maintenance.