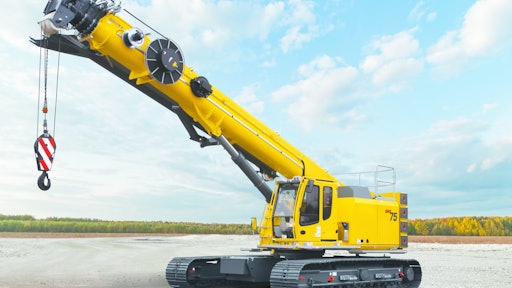 Manitowoc will showcase some of the latest Grove and National Crane models at the upcoming International Construction and Utility Equipment Exposition 2015 (ICUEE). At booth N2016, the company will highlight advancements in telescoping crawler cranes and boom trucks, with several cranes on display.
This year's ICUEE takes place in Louisville, KY, at the Kentucky Exposition Center from September 29 to October 1, with more than 850 leading manufacturers participating. The event will cover more than 25 acres of indoor and outdoor exhibits, as well as product demonstrations.
Grove GHC telescoping crawler cranes
Making their ICUEE debut, two cranes from Grove's new GHC telescoping crawler crane will be shown, the 75 USt Grove GHC75 and the 55 USt GHC55. The two cranes were unveiled in early 2015, and have features that are especially valuable to the utility market, including the ability to pick-and-carry at 100% of their load chart and can swing loads a full 360 degrees. The cranes can carry loads across the job site, adjusting boom length as necessary.
Offered for sale exclusively in the North and Latin American markets, the cranes are the result of a long-term strategic partnership between Manitowoc and Germany's Sennebogen Maschinenfabrik.
Mike Herbert, Global Product Director for Rough-Terrain Cranes at Manitowoc, says the GHC Series is ideal for utility companies that need a simple-to-operate, compact telescopic crawler crane to navigate terrain that won't accommodate other types of equipment.
"The GHC Series is for customers that need a compact, maneuverable crane that can face the rigors of merciless terrain," he says. "With minimal transport requirements, 100% pick-and-carry ability and a telescoping boom, these cranes will prove very nimble in both getting to and navigating job sites."
National Crane boom trucks and dual rating announcement
From National Crane, the new 680H-TM and NBT30H-2 cranes will be unveiled at the booth. Boom trucks are well known for their effectiveness in the utility market due to their road-friendly designs and efficient setup and operation. These two new National Crane models are no exception.
The NBT30H-2 has a 30 USt capacity and comes with either a 100 ft. or 110 ft. four-section boom, the latter of which is the longest in its class. Dual-H style outriggers allow full, mid and retracted span capabilities, making the crane versatile for a variety of applications. The NBT30H-2 features an efficient load-sensing hydraulic system, a fully integrated Rated Capacity Limiter (RCL) and electrical system with a graphical color display. The dual-side operator stations provide user-friendly mechanical control levers, with information at operators' fingertips, such as truck engine information, start/stop switches and two-speed hoist selection. This crane provides modern features and performance in an affordable package.
The National Crane 680H-TM boasts a 20 USt capacity and a new 80 ft., five-section boom in a compact tractor mount configuration. Low-profile rear stabilizers provide optimum fifth-wheel clearance. An optional single front outrigger provides 36-degree° operation. Three other boom length options—38 ft., 49 ft. and 60 ft.—are available for the 600H-TM to serve a diverse set of customer needs. This boom truck represents the shortest overall length for optimum mobility, and has a standard RCL and multiple outrigger positions.
Justin Pilgrim, Global Product Director for Boom Trucks & Carry Deck Cranes, says the new National Crane models are ideal for the utility market, thanks to their roadability and versatility.
"These new National Crane boom trucks are designed to be flexible and efficient, two characteristics needed to thrive in the utility sector," he says. "From multiple boom lengths and mounting configurations to utilization enhancing options such as baskets and radio remotes, customers will be able to get on and off the job site quickly, with a limited amount of set up and preparation. Class-leading boom lengths and modern features continue to improve the value for our customers."
National Crane also plans to announce its intentions for offering an ANSI A92.2 rating on the proven and successful NBT40 Series platform. The dual rating will result in more utilization and less setup time, increasing ROI for customers.
KZ-100
Also at Manitowoc's booth will be the KZ-100 synthetic rope. The KZ-100 offers many benefits over traditional hoist ropes. It's 80% lighter than wire and boasts torque neutral construction that eliminates load spin and cabling. The new hoist material makes for easy handling, reeving and installation as it reduces kinking, bird caging and damage from diving.
Manitowoc teamed up with U.S. company Samson, based in Ferndale, WA, to develop the KZ-100. Manitowoc and Samson were able to construct a rope that is corrosion resistant, more difficult to break, standardizes the main and auxiliary hoists to one rope, and that reduces wear on drums and sheaves.
Herbert says the KZ-100 is an innovation and a value-added option that can add more efficiency to utility job sites.
"Customers are realizing what a leap in technology this first synthetic hoist rope is for the lifting industry," he says. "It is aesthetically more pleasing than wire rope, too; it's soft, smooth and much more pliable in handling, which makes for a better user experience. Efficiency and speed are must-haves for utility work, and the KZ-100 offers improvement over traditional solutions."