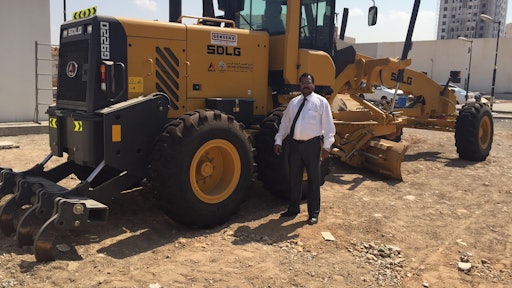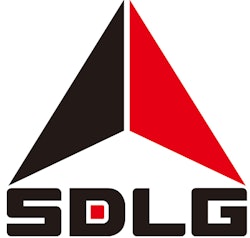 Shandong Lingong Construction Machinery Co. Ltd. (known as Lingong) recently celebrated two important milestones; the company sold its 100th SDLG motor grader in the EMEA region, which also becomes the first grader of its kind to be sold in the Sultanate of Oman, a G9220.
The G9220 was delivered to Sunshine International LLC, a leading construction company based in Oman. The machine was supplied by General Engineering Services, Genserv, SDLG's well-known local dealer, and has already been set to work carrying out road maintenance and repairs in Oman.
"SDLG graders are well-designed machines that offer strong long-term performance," explains Arun Pandey, Managing Director of Sunshine International. "Coupled with its competitive price, the G9220 is an excellent addition to our company's fleet."
With an operating weight of 16,500 kg, the G9220 is a high-quality, multi-purpose machine that has many features. Offering a powerful 164 kW Dalian Deutz engine, combined with a ZF powershift transmission, the G9220 delivers reliable operation. The engine also provides three distinct power curve settings to give the smoothest grade on any terrain while simultaneously reducing fuel consumption. And, offering greater versatility, the unit's Machine Blade Control System (MBCS) allows for ultimate grading precision. This system is controlled by hydraulic mechanical levers in the cab, meaning operators can swing the blade themselves if required.
"This sale is a significant milestone for SDLG and represents exciting growth in Oman and the surrounding regions," says Jan-Erik Eriksson, SDLG Business Manager for Middle East. "SDLG's future growth in this region will depend on our continued development in the value segment, as well as maintained production of reliable, robust machines."
Support when you need it most
Sunshine International is one of the leading construction companies for the commercial and industrial sectors in the Middle East. It's the sister company of Al Yam Enterprises and with extensive experience in the construction field, Sunshine International is an ideal partner for the SDLG brand.
"The G9220 is well-balanced and has good traction, which gives operators a lot of confidence when using the machine," says Pandey. "Overall, Sunshine International is very pleased with this latest investment."