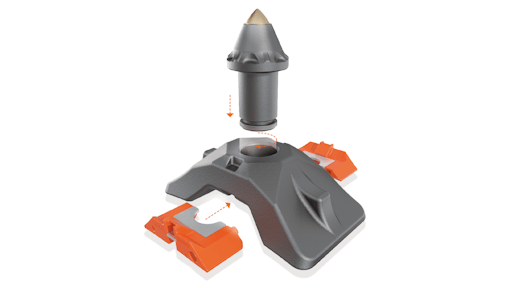 For bauma 2016 in Munich, HAMM is bringing along its VC compactors which are now ready for series production. These compactors with a VC crusher drum carry out two tasks simultaneously and to the highest quality standards: they crush rock and compact it at the same time. Three years ago, the series prototype attracted a great deal of attention at bauma. In the meantime, HAMM has subjected the VC crusher drums to intensive testing in different applications in the course of many tough assignments, refined the machine concept and developed the VC machines to become genuine heavy-duty units.
The initials VC in the compactor's name stand for "vibration crusher" on account of the fact that these compactors are intended for a very special kind of multitasking. During compaction, they crush the most diverse construction materials and minerals by means of vibration. This enables them to bring along two major benefits to the construction site – they save time and money.
ROCK CRUSHER AND PADFOOT ROLLER IN ONE
The VC compactors have been designed for crushing and loosening rock and stone. To this end, the drum is equipped with a special quick-change toolholder system. This enables the use of special padfoot inserts as well as picks. Accordingly, the area of application ranges from road building and earth-moving to the preparation of approaches in tunnel building and rock engineering.
THE QUICK-CHANGE TOOLHOLDER SYSTEM PROVIDES FLEXIBILITY
A few simple steps is all it takes to fit a wide range of tools in the drum's 150 quick-change toolholders. The design of the quick-change toolholders is just what you would expect from HAMM – well thought out and ergonomically outstanding. When working on the design, for example, care was taken to ensure that the picks are resistant to soiling in the holders, making them easy to swap. The tools are not destroyed during the changing process but can be repeatedly used until they are worn out.
TWO TYPES OF PICK AVAILABLE
The HAMM program currently includes two different picks for crushing or loosening: a classic pick and a special mining pick for heavy-duty jobs. Their geometries together with the integral solid carbide tips are specially designed for materials with different compressive strengths.
A HUGE RANGE OF POTENTIAL APPLICATIONS
The range of available tools results in an exceptionally wide application spectrum for the VC compactors with crusher drum. Fitted with picks, the crusher drum breaks up rock layers consisting of basalt, granite or minerals of comparable compressive strength as well as mixed soils, while compacting the soil to a great depth.
Road building applications include homogenization of rock, as well as compaction during cold recycling. The VC compactors are equally effective in crushing concrete rubble for recycling. They also have many other potential applications in rock engineering from pre-crushing or loosening of stone to the preparation and maintenance of access ways in quarries and to track laying in tunnels or surface mines.
Equipped with padfoot inserts, the machine can compact cohesive soils. This application increases the efficiency over that of a conventional padfoot roller, because when compacting very abrasive, fine-grain minerals, the padfoot inserts can simply be replaced as wearing parts, rather than replacing the complete drum.
OPTIMIZE PROCESSES – SAVE RESOURCES
The use of VC compactors results in a reduction in transport movements and simplified handling on the construction site. This is not only extremely environment-friendly, but also helps optimise processes. For example, when crushing hard rock with simultaneous compaction, far fewer excavators and crushers are generally required. This streamlines the process, reduces the fuel requirement and saves a great deal of time and expenditure.
Another example is the pre-crushing of rock prior to removal by cold milling. Experience gained in tunnel building and surface mining shows that milling capacity can be greatly increased through pretreatment with the crusher drum.
AVAILABLE FOR TIER 3 AND TIER 4 MARKETS
To enable as many customers as possible to take advantage of this innovative and versatile technology, HAMM is offering the VC crusher drum for two compactors: the H 25i VC with a 160 kW engine (complying with Tier 4 Interim/Stage IIIB) and the 3625 HT VC with a 155 kW engine (complying with Tier 3/Stage IIIA). The VC compactors with crusher drum are fuel-efficient thanks not least to the engines employed.
HAMMTRONIC MAKES FOR EXCEPTIONAL CLIMBING ABILITY
The Hammtronic machine control system fitted as standard ensures low operating costs. It optimizes the engine output, adjusts the operational states of the travel and vibration drives to the ambient conditions and enables tremendous climbing abilities of more than 60%, while being able to compact and crush at the same time.
EASY TRANSPORT
HAMM has developed a special device for transporting the crusher drum. It enables the machine to travel and maneuver on any surface, without damage to either the tools or the surface.
HEAVY-DUTY EQUIPMENT AS STANDARD
In order to get the compactors ready for the extremely tough requirements, the VC machines run on EM (Earth Movers) tires as standard. This ensures reliable headway even in difficult terrain. In addition, HAMM always equips both models with a ROPS cab, reinforced articulated joint and reinforced undertray. Both compactors also use the same front assembly with a 2,200 mm wide drum which differs from the standard machine in that it features a strengthened suspension, a drive with more than 30% extra torque and a fixed unbalance. This means that the compactors are perfectly prepared in every respect for the tough job ahead.