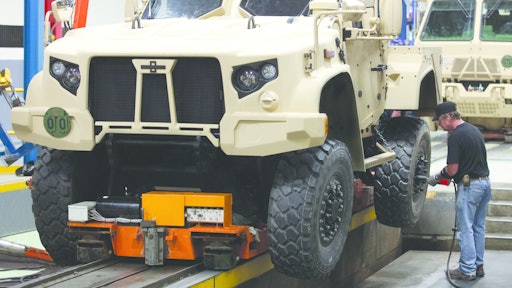 Oshkosh Defense LLC, an Oshkosh Corporation company, will continue to perform work on the Joint Light Tactical Vehicle (JLTV) production contract based on the U.S. Court of Federal Claims' decision to deny Lockheed Martin's request for a preliminary injunction while its protest is being heard. The JLTV program, which is cited among the Department of Defense's highest modernization priorities, is charged with providing greater protection and off-road mobility for American troops as they perform future combat operations virtually anywhere in the world.
"This decision is another indication that the U.S. Army conducted a thorough, methodical procurement process, and we are confident that the original JLTV contract award to Oshkosh will be upheld," says Wilson R. Jones, Oshkosh Corporation President and Chief Executive Officer. "The Oshkosh JLTV team, including our employees and hundreds of suppliers, is pleased to continue our work to deliver JLTVs to our nation's Soldiers and Marines."

The JLTV program fills a critical capability gap for the U.S. Army and Marine Corps by replacing a large portion of the legacy HMMWV fleet with a modern light vehicle that provides unprecedented protection and off-road mobility, as well as transportability via air, land and sea. The $6.7 billion JLTV production contract calls for Oshkosh to deliver a total volume of nearly 17,000 vehicles, as well as kits and sustainment services over an 8-year period.
On December 15, 2015, the U.S. Government Accountability Office (GAO) dismissed Lockheed Martin's protest just days before the GAO was expected to issue its decision. The U.S. Army promptly lifted the stop work order and instructed Oshkosh to resume performance on the JLTV contract. On December 17, 2015, Lockheed took its objections to the U.S. Court of Federal Claims and the next day requested an injunction to stop work on the JLTV program. On February 11, 2016, the U.S. Court of Federal Claims denied the injunction, permitting Oshkosh to continue working under the JLTV contract.