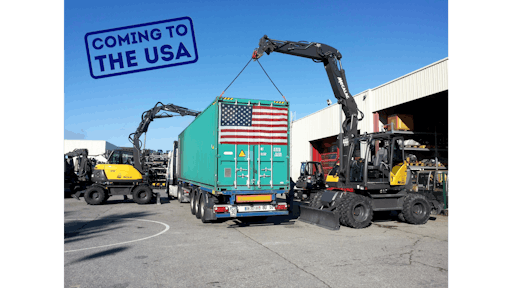 Geographical development remains a priority of the French Mecalac Group. Present in most European countries, and Australia after 2014, Mecalac Group now opens the doors of the U.S. market thanks to its recent collaboration with a dealer based just outside of Boston, MA. After this first step and aiming to support the commercial launching of Mecalac excavators and loaders in the American continent, Mecalac will exhibit its machines for the first time at CONEXPO in Las Vegas in March 2017.
By popular demand from entrepreneurs on the other side of the Atlantic, Mecalac established a distribution partnership with Massachusetts-based Lorusso Heavy Equipment LLC (LHE) in February 2016. Going forward, LHE will ensure the promotion and commercialization of Mecalac machinery in all of New England, plus three more states: New York, New Jersey and Pennsylvania.
As a first step, LHE will mainly distribute the range of MCR crawler excavators and AX wheeled loaders. These two lines are particularly interesting for building and public works professionals, as they meet the needs of the North American market in the logic of intensification of urbanization work.
Lorusso Heavy Equipment has plans to participate in multiple upcoming events to present the Mecalac range of machines to a selection of companies interested in exploring the advantages of the compactness and versatility of Mecalac excavators and loaders.
Taking place every three years in Las Vegas, next year's CONEXPO, held from March 7-11, 2017, is the ideal venue to present the United States launch of the Mecalac brand. CONEXPO presents a wonderful opportunity to showcase the high-performance standards of Mecalac machinery to an international audience.