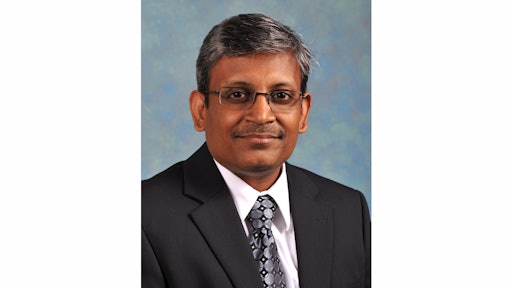 Responses from Mahendra Muli, Director – Marketing and New Business Development, dSPACE
GOVERNMENT
What government regulations, standards or bills were passed in the past year that most affected the way you do business and go to market?
Government regulations regarding vehicle emissions and mandates for safety-related features and active safety, such as Automatic Emergency Braking (AEB), are impacting our customers. These features are requiring continuous product development efforts and result in increased complexity of electronic systems and embedded software. We are supporting the industry by trying to make the development and integration of new technologies easier, efficient and cost effective through new capabilities for their toolchains for virtual, simulated development and testing. These toolchain enhancements reduce the overall investment burden and save costs through early testing.
Actions by various state governments to provide driving permits for autonomous vehicles on their roads is providing a great support and vote of confidence to the product development activities. These permits are critically important and are becoming available at a very crucial time to enable real world experience with the autonomous systems.
DIVERSIFICATION MARKETS
Any new products on the horizon for new markets to broaden your market reach?
dSPACE is continuously innovating new capabilities, methods and toolchains to enable innovation and make product development tasks easier. We have added many capabilities in our toolchain to support three key visions and trends in automotive and commercial vehicle product development – accident- free driving, autonomous driving and efficient, green transportation.
One of the recent key offerings from dSPACE is the platform for virtual development and validation – VEOS. This platform, with its unique capabilities to support a wide variety of tools for simulation, experimentation, and automated testing, will help our user community to reach their goals driven by the visions discussed above.
TECHNOLOGY OF THE FUTURE
Are you seeing a shift toward overall part reduction and system simplification? If yes, how are you participating in this movement?
From our perspective, due to regulations, mandates and customer experience expectations, the complexity of electronic systems in vehicles is on the rise. It is clearly evident by the millions of lines of code that are being implemented through distributed and networked electronic control systems. We understand the challenges faced by our customers in integrating these complex subsystems and are providing appropriate supporting tool chain solutions.
Additionally, the increase in development tasks and the number of variants due to "mass customization" enabled by software, the amount of data generated in the development process is huge. Our customers are challenged in managing traceability, transparency and number of variants of work products. We are providing solutions to make this data management challenge easier.
Where are overall vehicle electrification and hybridization efforts taking us as an industry? Where are the technology lags that still need to be developed in order to reach the end goal?
I think we are at a good stage in technology development for electrification and hybridization efforts. We have gained a significant amount of experience in integrating conventional powertrains and electrical subsystems in various configurations over the last decade. We have also gained a good understanding of how to safely integrate and operate the current date battery technology.
However, I think we are reaching saturation with respect to the range that the current battery systems can support. Newer battery technology and associated systems to enable its safe integration in the automotive systems will continue to be a goal.
What technologies on the horizon will affect your existing and future product development?
Clearly, the vision of accident-free driving and autonomous vehicles is driving the future product development in the industry. Putting these systems safely and effectively on the roads is a challenge that will have to be addressed and we are supporting it.
Development of these advanced technologies though is challenged by the fact that the products will have to be tested by running those systems through tens of millions of miles, while the number of prototype vehicles available to engineers continues to reduce. Therefore, simulation and virtual development will become an extremely important capability for engineers. Development and testing of the advanced features through PC-based, virtual, and high-fidelity simulation will make this task easier.
Additionally, the future through virtual development will require a more heterogeneous simulation landscape with capabilities to support various simulation environments connected through standardized interfaces. The rise of FMI and ASAM standards in this regards are a significant development. We, at dSPACE, are at the forefront of defining and implementing these standards.
What are the key customer requests that are most driving technology and vehicle development? How?
Development in consumer electronics has revolutionized the customers' use experience through touch screens and smart devices. Today, consumers are starting to expect a similar user experience ubiquitously throughout their daily activities, including their driving and on-road experiences. This is turning our vehicles into not only computers, but supercomputers on wheels. This expectation, along with the vision of smart, efficient, safe and green transportation, will continue to drive technology and vehicle development.
INFORMATION TECHNOLOGY
Where is Big Data in your company's equation?
We are looking at the challenges in managing the engineering data. As mentioned earlier, the development process of embedded software generates a large amount of data in the form of requirements, tests, models, signals, parameters, tests, test results, etc. The traceability and reusability of these artifacts is only possible if there is a strong infrastructure to manage these work products. We have endeavored to take on this challenge and provide a data infrastructure backbone to our customers through our product – SYNECT.
How important is automation to your future outlook and design considerations?
Automating product development task of software testing is an area that dSPACE has supported with our hardware-in-the-loop (HIL) technology for a long time, and now with our virtual validation platform. We recently released AutomationDesk 5.0 test automation software that aims to reduce engineers' development time by improving how ECU testing is performed. We have introduced a new type of test description that makes the test development task easier and efficient. AutomationDesk further automatically generates all the test documentation and a report with vivid plots and parameter information for easy analysis. New capabilities of AutomationDesk specifically address needs for development of ADAS and autonomous systems.
EDUCATION
What education programs do you offer or participate in to help cultivate the next generation of engineers?
Recently, the pace of technology growth in the industry is very rapid, and it is therefore a common knowledge that there exists a significant skill gap in the engineering students graduating from our universities to the expectations of their workplaces in the industry. We are, therefore, endeavoring to provide the same technology and tool experience to students at universities through highly discounted packages that are the same products used in the industry.
Additionally, we are sponsoring competitions like ECOCAR, SAE Formula, etc. and providing tools, training and mentoring to students participating in these programs. We are also supporting various other initiatives such as DOE's GATE program, the University of Wisconsin's WEMPEC program for power electronics, etc.