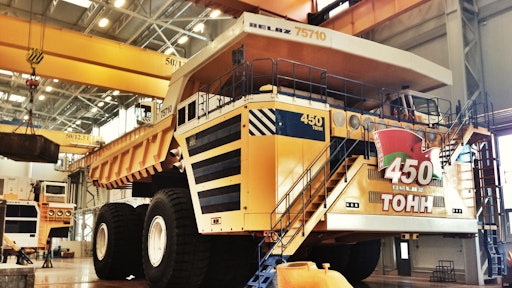 BelAZ
How do you ensure subsystems from different suppliers will reliably work once assembled? How do you maximize a machine's productivity? And will the operator and those around the machine remain safe? Answering these critical questions must occur long before a manufacturer builds its product.
By focusing on three key innovative areas, heavy equipment manufacturers will be able to maximize operability, efficiency, safety and comfort.
Productivity. How much material can a dump truck effectively move from point A to B and repeat this task in a given amount of time? What is the maximum amount of material it can move and how quickly can it do so? Productivity deals with the speed and efficiency in which the machine performs its specified test.
Reliability. Will a machine function during production times? Reliability is about verifying that all the subsystems are ready to operate together under operator demands and guaranteeing reliable functioning of the total machine. This includes the assembly of subsystems from different suppliers is dependable and that the machine has guaranteed mobility on every soil it may be used on.
Comfort and Safety. Is the work environment safe and comfortable for the operator? Comfort and safety goes beyond the interior of the machine and includes not just the operator's cabin comforts but machine stability, vehicle ride quality, acoustic comfort and vibration.
There are companies using simulation and digital tools to solve these problems. Most importantly, it has helped heavy equipment manufacturers to increase their levels of competitiveness and accommodate the needs of their customers while adhering to changing regulations and standards.
Below are challenges that manufacturers have solved by adopting simulation as a strategy. Without its use, they would continue facing mounting costs, increased time-to-market and reduced competitiveness.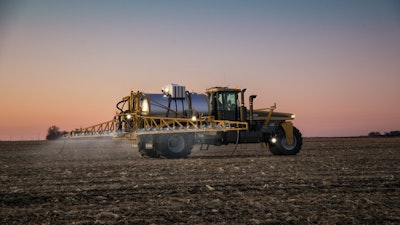 Productivity
The challenges of productivity involve the design intent of the machine. There are many types of systems that can contribute to productivity, so it's important to simulate and optimize throughout the entire mechatronic design. How can a machine perform tasks without wasting time and power?
To meet these challenges, companies like AGCO use simulation of a system's operation cycles to improve productivity rates.
AGCO created a high-performance crop sprayer using simulation to aid in its development. By modeling a spraying system using a multi-body simulation, as well as vibration testing and analysis for the physical prototype validation, AGCO could integrate digital twins, bringing virtual and physical properties together for the simulation validation.
The result: Using digital technology helped AGCO increase productivity of its crop sprayers such as better boom arm stability and a smoother ride over rough terrain. Through design optimization, the company not only provided more stability and productivity to its product but also outperformed industry standards and increased brand value.
Multi-body simulation allowed the company to explore design space to redesign its sprayer system to be more productive and efficient, and vibration testing and analysis ensured validation prior to creating a physical prototype.
Reliability
Some of the challenges of creating heavy equipment is bringing all subsystems, often from multiple suppliers and/or individual departments, together while identifying any component defects before it becomes too costly to fix. The goal is to bring all the components together and have them work in-sync, ensuring long-term reliability.
Liebherr, one of the world's largest manufacturers of construction equipment, started using more simulation to reduce prototypes. Because the company needed to remain competitive as well as adhere to new emissions standards and regulations, its engineering team had to evaluate and investigate new ways to create designs and related systems architecture while avoiding costly physical prototypes.
Liebherr used simulation across several system versions, including diverse mechanical systems, to analyze the behavior of subsystems without building expensive prototypes. This allowed its engineering team to determine the best possible design to avoid backlash and reliability issues. It not only saved time and money, but ensured the company's level of competitiveness remained strong.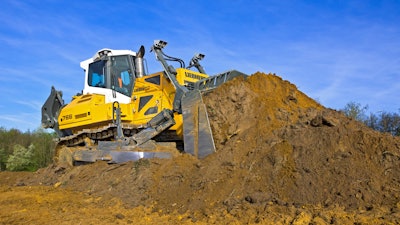 Comfort and Safety
Users of heavy machinery often spend long periods of time operating equipment. There are many factors that go into ensuring the conditions are safe and comfortable, such as ride quality and stability. Considering everything from creature comforts and HVAC performance to noise levels and acoustics plays a critical role in comfort and safety.
Volvo Construction Equipment (Volvo CE) faced the challenge of designing a dump truck that could go over rough terrain quickly and smoothly while hauling as much material as possible, all while maximizing the comfort of the operator.
Designing a superior suspension was critical to ensure better ride and handling. To design and validate the implementation of a hydro-pneumatic system, Volvo CE used co-simulation between a 1D and multibody tool. This ensured the ability to design in one program while reusing the existing mechanism in a multibody tool. Co-simulation provided accurate data when it came to hydraulic component designs, as well as vehicle cycle times on different track profiles.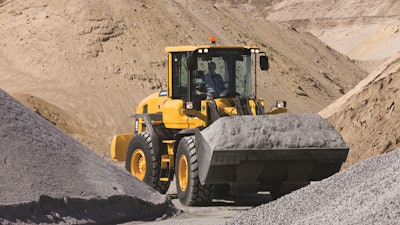 "This project is a quantum leap in engineering productivity in the CE market. With process improvements in collaboration and co-simulation, Volvo CE has cut overall vehicle virtual prototyping time in early design phases in half," comments Jonas Larsson, Simulation Coordinator Haulers and Loaders, at Volvo CE.
Simulation provides models for a wide range of future designs without the need to start from scratch each time. Manufacturers are already dramatically reducing the number of physical prototypes while also speeding up the design process.
Want to learn more about simulation in heavy machinery? Watch the webinar "Benefits of the Digital Twin for heavy equipment challenges" from Siemens Digital Industry Software.
This article was contributed by Peter De Clerck, Senior Marketing Director for the Simcenter portfolio, Siemens Digital Industry Software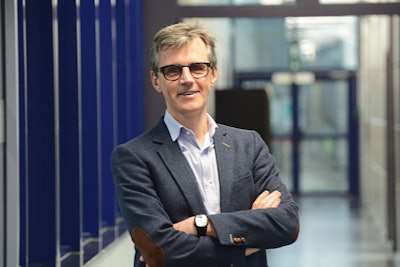 About the author
Peter De Clerck is the Senior Marketing Director for the Simcenter portfolio within Siemens Digital Industry Software.
Prior to the acquisition of LMS International by Siemens, Peter covered a wide range of global management responsibilities and has been the general manager for the Indian & Chinese operations before becoming the global director sales operations. Since 2013, Peter has headed the marketing organization focused on the Simulation & Testing business for Siemens Digital Industries Software.
Peter holds a master's degree in electro-mechanical engineering from the KU Leuven and an MBA from the Vlerick Business School.
Companies in this article