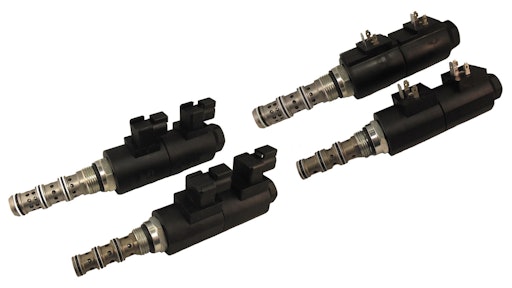 Comatrol, a global leader in the design, manufacture and sale of engineered hydraulic cartridge valves, announces four new proportional directional valves featuring precision hydraulic control. The new proportional valves were designed to address industry needs for solutions between on/off solenoid valves and higher-end proportional sectional valves. As a result, Comatrol's high resolution proportional directional valves provide flexibility and compact size ideal for broader application use by the agricultural market.
At Agritechnica 2011, Comatrol rolled out the Linked Distributor Inventory system which connects together the Comatrol distribution network in real time. This industry leading system strengthens the ability of the Comatrol network of distribution partners to support OEM needs for product with market leading speed at the lowest transaction cost. The web-browser based application is available on all smart phone and tablet devices, allowing distributors on-the-go to buy and sell from other Comatrol distribution partners as part of a European network.
After much anticipation, Comatrol also released its flagship design software EasyValve 2.0 that takes custom HIC solutions to the next level. The drag, drop and deliver approach is utilized by designers in OEM, Distributor and Comatrol facilities across Europe, allowing Comatrol partners to access price reports in real-time.
"Comatrol was established around speed and responsiveness to our customer's needs," says Lon Jennings, Director of Sales, Marketing and Product Development. "We are committed to ongoing product innovation for agricultural machinery in the established and emerging markets, working closely with our customers and distributor partners to design hydraulic controls with efficiency and improved flexibility that will have immediate value."
Product Innovation
Comatrol hydraulic control products are used worldwide in a broad range of agricultural applications. Recognizing the market need for precision hydraulic controls with a focus on customization and flexibility, Comatrol developed four new proportional directional valves as a cost-effective upgrade to on-off electrical actuation solutions. The PSV10-34 and PSV12-34 products include 10 and 12 series sizes in both closed center and float center schematics with flows ranging from 3 LPM up to market-leading 60 LPM. In comparison to other proportional directional technologies, the Comatrol cartridge design provides a machine designer more circuit design flexibility, a smaller space claim, lighter weight and reduced power consumption from current draw.
"As our customers continue to meet regulations and improve their product efficiencies, we are committed to constantly evaluating how Comatrol can better help them achieve their goals," says Ferruccio Colombo, European Sales Manager. "With the increased demand to do more with less we are developing our product portfolio to have a longer life, higher efficiency, and higher pressures."
"The intelligence of applications is growing while the harshness of the operating environment is also increasing," according to David Duvall, Comatrol General Manager. "As a result, robust and rugged devices capable of providing proportional control and real-time feedback will be critical in an increasing number of applications. Comatrol is investing in products that allow engineering teams to deliver the performance needed in their markets while ensuring short lead times and swift product turnaround."
Linked Distributor Inventory
Recognizing the importance of real time connectedness for its network of global distributors, Comatrol created the Linked Distributor Inventory system to connect partner distributors. The web-browser based system hosted by Comatrol does not require special software and allows an entire company to be covered by a single annual registration fee. The system is easy to install and functions on the Blackberry, iPhone and Droid for on-the-go inventory accessibility.
"Control design engineers are more pressed to deliver solutions than ever before," says Darren Magner, Global Marketing Manager. "The emission regulations that are being implemented within the European markets are making changes in all of the control circuits. EasyValve 2.0 is Comatrol's answer to getting more design work done faster at a higher quality level than ever before. Combined with higher component availability through a linked network of distribution partners, there has never been a better time to integrate the Comatrol team into a vehicle design effort."
EasyValve 2.0
Comatrol has invested in expert tools to streamline the design process, lowering turn-around time and improving product specification quality. Comatrol's suite of HIC design and prototyping tools, including our free circuit design software EasyValve, takes custom hydraulic integrated control solutions to the next level, allowing Comatrol to get involved at the very beginning of the design stage and drive performance all the way through to production.
"The intuitive user interface of EasyValve allows the engineer to efficiently create hydraulic circuit schematics by simply dragging and dropping from Comatrol's complete digital library of cartridge valves, Cetop valves and accessories," says Massimo Masini, Application Engineering Team Leader. "Engineers can capture their technical, commercial and application requirements to accurately document and communicate their custom HIC needs - allowing them to get exactly what they want from the first drawing, heavily reducing the HIC development process time."