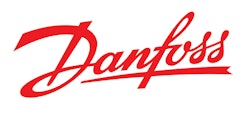 Danfoss Power Solutions announces the global launch of its Best Point Control (BPC) software technology, which increases machine efficiency levels by detecting the needed power for current operation conditions and automatically adjusting the engine speed to meet optimum efficiency points.
As a PLUS+1 compliant software block, BPC offers plug-and-perform integration into existing work flows, reducing development time and shortening time to market, with an estimated four to eight weeks from quotation to prototype.
"Danfoss is proud to offer Best Point Control as the latest addition to the Danfoss portfolio of software blocks designed for seamless integration," says Markus Plassmann, Danfoss Product Marketing Manager for High Power Closed Circuit Products. "With Best Point Control, there is no longer a need to rely on operator skill level to get the most out of a machine and to achieve performance goals."
In traditional hydrostatic transmissions, the operator uses a foot pedal to control engine speed. With BPC, the operator still controls the movement of the vehicle, but the software manages engine speed and hydrostatic ratio.
BPC is designed for multiple single-path application types such as a wheel loader, large forklift and reach stacker, telehandler, forestry machine and dumper, among others. The modular software approach supports an efficient human machine interface (HMI) integration (drive pedals, joysticks, mode switches, etc.), as well as an integration of various gearbox solutions.
Danfoss BPC software boosts your bottom line
Danfoss BPC software technology provides greater efficiency through intelligent engine control and creates a variety of user benefits.
Provides average fuel savings of up to 25% depending on the application type, duty cycle and system configuration. BPC delivers fuel savings at almost every operating point, including transport driving, acceleration, deceleration and work tasks.
Gets the most work out of engines as the ultra-efficient use of power for each task frees up installed engine power to operate other subsystems, such as work functions, fan drive, steering and more. This also has the potential to reduce OEM costs, and help with Tier IV and eventually Tier V compliance by allowing for engine downsizing.
Increases driver comfort and productivity; in microseconds, BPC determines the lowest possible engine speed to accomplish any task and takes the burden of controlling engine speed off operators, therefore reducing fatigue and increasing focus on tasks and steering.
Decreases disruption to the work area by keeping engine work at the appropriate level for every task and reducing overall noise and emissions. Lower engine noise is easier on the operator and also critical when working on sites that have noise restrictions, such as residential areas.
Danfoss Propel Application Library coming in 2016
The global release of BPC will be followed by the summer 2016 launch of the Danfoss PLUS+1 Propel Application Library (PAL). PAL is a collection of easy-to-use, pre-tested and qualified software function blocks that allow Danfoss' distributors to provide their customers with solutions that decrease development and system integration times. 
PAL cuts development time by approximately 50% or more, and supports the complete development process. Developers benefit from access to PLUS+1 function blocks, P1D service tool screens, user manual snippets and thorough support documentation.
"With the Danfoss Propel Application Library, PLUS+1 users will be able to develop propel solutions more quickly and at a higher overall quality, which is a clear differentiator in the market," Plassmann says. "We are excited to offer more innovative, functional and complete libraries to our customers."