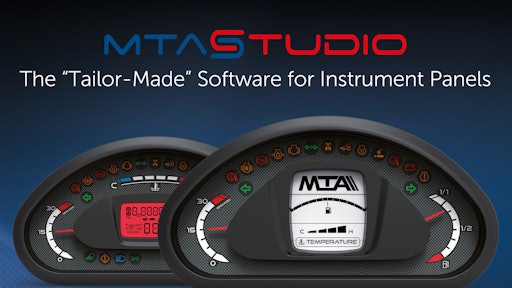 To meet the requirements of versatility and ease of customization that many clients look for in their instrument panels, MTA has recently developed a specific software tool, called MTA Studio, which allows users to program these instruments based on their needs.
MTA Studio, in fact, allows users to configure the clusters as well as to program their logic functions using C, LADDER and FBD. For the graphical HMI, however, the interface is "What you see is what you get," which allows the user to see how the graphics will appear at the end while creating the software. The software available to the client also contains a real-time debugger, and a set of libraries, with different functions that can be used depending on the application requirements.
MTA Studio, for now, can be used to configure the four instrument panels already available in the catalogue: Quik, Quik Plus, Revo Plus and Spot. These instrument panels, in addition to responding to the above requirements, have elegant and modern lines, and were designed especially by a design studio.
The first panel that MTA has developed is the Quik. A small instrument panel, measuring 230 x 120 mm, the Quik is characterized by:
one LCD display segment in the center;
two analog gauges with hand indicator, arranged in a mirror-like configuration;
one indicator with LED bar located above the display;
23 LED control lights;
one real-time clock;
one buzzer;
one CAN line with configurable terminal;
up to 23 configurable digital inputs;
two analog inputs;
two frequency inputs and a 500 mA output.
The glass of the instrument panel is made from PMMA. Quik can operate at either 12V or 24V and the fixing system provides two possible options, with or without front frame.
For the sake of even greater customization, MTA has created Quik Plus, where the LCD segment and the LED bar are replaced by an LCD dot matrix (128 x 128 pixels).
The Revo Plus is quite a small instrument panel (140 x 305 mm) and can hold up to four analog instruments. It includes:
a 4.3 in. color TFT display at the center;
four side buttons to scroll through the various menus;
28 LED control lights that can be expanded up to 34 if the customer requests it;
one buzzer;
two CAN lines;
up to 37 configurable digital inputs;
seven analog inputs and four frequency inputs.
Protected by a PMMA glass, this instrument panel can operate at either 12V or 24V.
The round shape and the very small size of the Spot display, which has a diameter of only 108.5 mm, makes this instrument panel particularly suitable for small vehicles, or for those means of transport that need a large front visibility, such as tractors for orchards, lawn mowers or sweepers. It is composed of:
an LCD dot matrix (160 x 56 pixels);
eight digital inputs with pull down and eight with pull up;
two analog inputs;
one CAN line and an output of 500 mA.