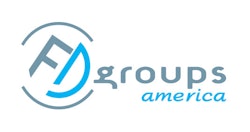 FD-GROUPS America Inc. is a North American branch of the French parent company, FLUIDESIGN Group. With over 30 years as hydraulic specialists, FD-GROUPS America has leveraged this expertise to provide the most comprehensive analysis in dynamic systems.
FD-GROUPS' multi-physics analysis expertise now offers an avenue for both large and small companies alike to take advantage of dynamic simulation without the investment in simulation software licensing and training. The implementation of hardware in the loop (HiL) and software in the loop (SiL) is the latest method FD-GROUPS uses to give developers real-time operations visibility of their systems. This approach, coupled with FD-GROUPS' 1D and 3D co-simulation specialty, identifies problems that would have otherwise gone unpredicted. FD-GROUPS America also provides the advantage of virtual testing for parts and systems validation on the spot, giving their clients instantaneous decision-making criteria for design change and optimization through their proven technique for deep analysis.
Deep analysis means going that extra step, which is exactly how FD-GROUPS fine-tuned its own process for delivering precise models to their customers. When FD-GROUPS first started, they discovered 1D analysis did not offer enough accuracy. Next, pairing 3D impact of materials flexibility on 1D dynamic simulation of systems got them closer to reality in the model. More recently, the advent of HiL and SiL enabled additional precision for FD-GROUPS' customers. Dynamic simulation of this kind is now recognized as the critical tool necessary for developers to optimize designs without damaging equipment or compromising safety. FD-GROUPS America, Inc. has become a respected industry solution for dynamic system analysis.
For Celine Cabana, FD-GROUPS Technical Account Representative, getting the word out about the company's multi-physics analyses is paying off. "In the engineering industry, the term simulation has almost become an unfortunate buzzword, because most companies are using some sort of 3D simulation in their designs. The problem with this approach is that today's systems are far too complex for that kind of static analysis. A comprehensive system-level approach is imperative for the success of new designs, because you have to be able to see how all the systems work together," says Cabana. "Our dynamic simulation put us on the map as a concrete means to lower production risk and shorten time to market and our clients are using us to do just that."