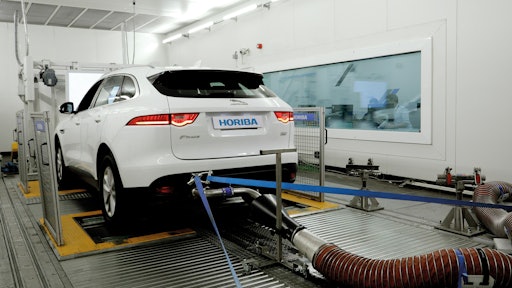 HORIBA Group
HORIBA announces the U.S. Patent and Trademark Office has issued a patent for the HORIBA Torque-Matching RDE+ laboratory test method as part of their comprehensive 'road to rig' solution which brings real-world vehicle emissions testing into the laboratory.
The torque-matching method is part of the HORIBA RDE+ application offering. It links road based real-world tests to the chassis, engine, or powertrain dynamometer, making it possible to conduct accurate whole-vehicle RDE and real-world emissions testing in the laboratory with superior accuracy and repeatability.
Drawing upon the company's unmatched industry expertise in emissions measurement development, this industry-first application offers a number of cost and operational benefits including:
No need to take complex vehicle measurements over a RDE test
Lower cost, efficient replication of any RDE or other real-world test that includes changing environmental conditions, variable road grades, and road surfaces
Easy RDE emulation after changes are made to the powertrain or emissions control system
"The patent shows how to conduct real-world emissions and fuel economy testing in the real world for later replication," says Leo Breton, Technical Director, HORIBA Automotive Test Systems. "It then shows how to replicate the same test in a precision laboratory environment, and how to conduct similar testing, but at different test conditions, or after modifications are made to a vehicle. This makes the method valuable for measuring the effects of alternative powertrain calibrations or component changes."
HORIBA recently launched its virtual based RDE+, a rapid, robust, integrated process and toolchain; delivering design, development, validation and verification with optimum efficiency. By connecting new virtual tools that model the environment and vehicle systems to HORIBA laboratory systems, the real-world test conditions can be replicated or emulated in the lab.
HORIBA's new RDE+ solution is a more efficient and cost-effective approach to RDE or real-world emissions vehicle development which could save OEMs up to $17M in prototype vehicle reductions alone on each program.