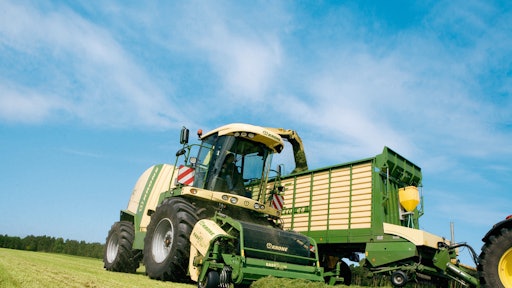 Krone has released a new line of Krone BiG X forage harvesters. The new machines feature a MAN engine and a revolutionary crop flow design, VariStream. The line-up includes the 775 horsepower BiG X 700, the 850 horsepower BiG X 850 and the 1,078 horsepower BiG X 1100.
The MAN engine, with its common rail injection, leads to quiet running, low fuel consumption, high efficiency and low maintenance. With the MAN engine the BiG X 850 and 1100 are able to produce more horsepower from a single engine than their predecessors, the BiG X 800 and 1000, were able to with twin-engines.
"Krone has switched engine manufacturers on the BiG X from Mercedes to MAN because MAN can provide us with a single engine that can put out enough power to meet the horsepower requirements of the BiG X Self-Propelled Forage Harvesters as well as meeting current emissions regulations in the United States. Krone North America personnel and Krone dealers across North America will be able to conduct maintenance on these engines, something we couldn't do before with the Mercedes engines. The MAN engines can meet the current exhaust regulations in the United States without using SCR or particle filters," explains Blake Fuller, Territory Product Manager, Krone North America.
The BiG X 1100 forage harvester features the Krone Power Management system. The system allows operators to adjust the engine output to meet the current power requirements by switching from Eco-Power mode to X-Power mode. This allows the machine to conserve power and fuel when the job at hand doesn't require all 1,078 horses, such as while in transport mode or in light hay.
"The BiG X 1100 will be capable of running in two engine performance modes, X-Power and Eco-Power. X-Power mode allows the machine to run at 1,034 hp to the drum. Eco-Power mode allows the machine to run at 638 hp to the drum. Eco-Power mode is similar to shutting off one engine on our twin-engine machines," Fuller verifies.
The new VariStream spring-loaded crop flow is a revolutionary design that is unique to the BiG X. VariStream adapts the cross section of the crop flow as the crop volume varies using spring-loaded plates in the cutting cylinder and the crop blower. This enables the BiG X to maintain high output levels while substantially reducing the risk of blockages by creating a uniform crop flow. The benefits are more efficient fuel consumption, higher throughput and less wear.
To learn more about Krone's BiG X forage harvesters, visit http://www.krone-na.com/BiG%20X%20New%20Generation%20Lit.pdf