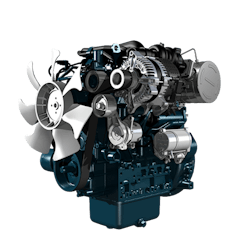 Kubota BUEE
Hybridization is making its way into many aspects of heavy-duty vehicles, including the powertrain system. Over the past year, several engine manufacturers including DEUTZ and Cummins have unveiled hybrid engine designs—typically consisting of a downsized engine and electrical components such as a battery and electric motor. Read the article "Embracing the Electric Transformation" to learn more.
The aim is to complement traditional power sources—the diesel engine—with alternative energy sources to provide more efficient, environmentally friendly means of power generation.
At bauma 2019, hybrid engine systems could be found at the stands of many engine manufacturers. Kohler, for instance, introduced its latest KOHLER Hybrid Energy Module, the K-HEM 2504. It combines a KDI 2504TCR 55.4 kW (74.3 hp) Stage V diesel engine with 48V electric motor capable of providing 19.5 kW (26.1 hp) peak power and 9 kW (12.2 hp) of continuous power. "The combination of an internal combustion engine and e-motor allows customers to install smaller units with reduced emissions, but still be able to deal with peaks in power demand as the electrical component is able to deliver up to 30% additional power," the company explained during the introduction of the new K-HEM.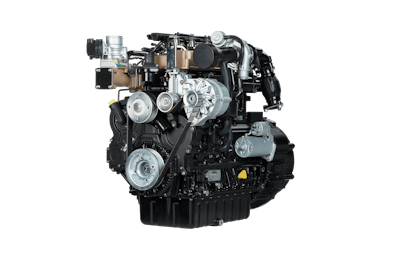 Different configurations for different application needs
Kubota BUEE (Business Unit Engine Europe) introduced the next generation of its micro hybrid prototype, as well, during bauma. Its hybrid is comprised of a smaller displacement engine and 10 kW (13.4 hp) motor generator which can aid the engine in providing the necessary power for an application.
The company says it realized in many applications full engine power is only utilized for short periods of time. If instead a motor can assist with providing this power—essentially providing power only when needed—a smaller displacement engine can be used, enabling fuel savings and in some applications weight savings, as well. The generator motor is also able to accumulate electrical power to put into the system's battery for use when needed, further aiding efficiency.
Kubota says it chose to use a 48V micro hybrid system because it is safer and simpler than other diesel hybrid systems. Once the 50V threshold is exceeded, several safety-related components are necessary; service technicians would also require special certification to work on the system.
Its micro hybrid has potential for use in a variety of heavy-duty equipment applications, and the company says it is working with various OEMs to investigate opportunities for the system's use. At bauma, the company exhibited the hybrid in a forklift to demonstrate a potential application for it. Kubota utilized a market available forklift that typically has a Kubota 2.4 L common rail turbo diesel engine integrated into it. According to the company, only three components were changed for the installation of the micro hybrid system, demonstrating the ease of integrating it into existing machine designs. Twelve-volt alternators were swapped out for the 48V motor generator; lithium-ion batteries were also installed which will provide electrical energy for the motors.
The engine will be the primary power source for the forklift, with the electric motor providing 10 kW (13.4 hp) of extra power when necessary.
Kubota says the system's compactness and ease of installation is of value to OEMs, enabling them to fit the system into space-constrained designs and eliminating the need to completely redesign a piece of equipment in order to install the micro hybrid.
Kubota believes the market is heading toward full electrification, but for about the next 10 years there will be a co-existence of diesel and electric.
Perkins Engines Co. Ltd. unveiled its three engine hybrid solutions at bauma, as well. The electrical, mechanical and hydraulic hybrid systems will be available for a power range of 6-600 kW (8-805 hp), and are designed to meet the needs of specific types of applications. At bauma, the systems were shown on a 55 kW (74 hp) engine with a 20 kW (27 hp) boost to provide a direct comparison between the three options.
The electrical hybrid system includes a lithium-ion battery for energy storage and a motor generator attached to the engine to either generate or provide a boost of energy when needed. Oliver Lythgoe, Product Concept Marketing, Perkins, says lithium-ion has the ability to store a lot of energy, and with the price coming down it is becoming a more cost-effective solution. However, the battery also requires a lot of space. "It's a viable technology that will suit some, but the space and costs are restrictions, so it won't suit everyone," says Lythgoe. Machines with unpredictable load cycles, such as telehandlers, are likely to benefit from using the electrical hybrid system.
For the mechanical hybrid, a high-speed flywheel is used to store energy. Though it's small and not able to store a lot of energy, the flywheel is able to release energy much faster than the lithium-ion battery. With its ability to quickly recover and release energy, the mechanical hybrid would best suit machines with regular duty cycles, says Lythgoe, such as an excavator which is continuously digging a hole and dumping soil.
Perkins' hydraulic hybrid system stores energy in compressed hydraulic fluid. Lythgoe says because there are already hydraulic components on most machines—pumps, motors and the necessary controls—it's easy to build on existing architecture. Software and accumulators are the only necessary components added for this system. It will be beneficial for machines with cyclical operations, such as excavators and wheel loaders; it will be particularly beneficial for digging and loading cycles, says Lythgoe.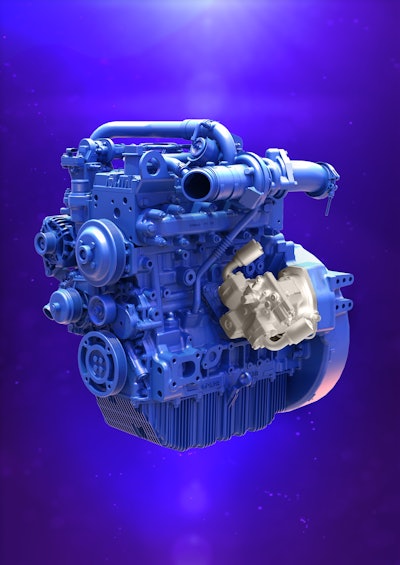 He says the three systems each have their benefits, and the maturity level of the technology for each will determine how quickly a system may enter the market.
Perkins has been working for several years on the development of these hybrid systems because, according to Lythgoe, those which have been developed for on-highway applications are not quite right for the off-highway segment. "The harshness of the application is very different in construction," he says. "Dust in particular, the amount of water around the equipment, the vibration, and especially the shock, are all very different, and very challenging [for] off-highway [applications]."
Because Perkins focuses solely on the off-highway market, it can bring its expertise to the design of these hybrid systems and better help its OEM customers find the solution which best fits their needs.
"The market for electric and hybrid machines at the moment is very small, a tiny fraction of the whole market," says Lythgoe. "But we know that every OEM wants to have a strategy path…and we know the teams at OEMs are very pressurized; they've got a lot of other priorities."
By taking on the development of the hybrid systems, Perkins is helping its OEM customers plot their alternative energy path. How quickly machines utilizing the hybrids go into production will be determined by the OEMs and when it makes the most economic sense to them. "People in the industry are not changing because of sustainability. They're changing because it makes economic sense," says Lythgoe.
Last year, Volvo Penta announced it would introduce electrified solutions for its marine and industrial segments by 2021. Since then, it has announced a few projects with OEMs as part of this alternative energy journey. For instance, in February of this year the company announced a development project with Rosenbauer in which Volvo Penta will design the electric driveline of an electric fire truck.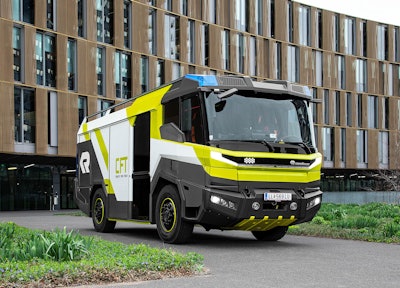 For its electromobility solutions, Peter Granqvist, CTO at Volvo Penta, says the company is developing products closely with customers to really understand the challenges and the applications in which the technology will be used.
The platform will be Volvo Group technology, which he says is a good asset to have. "It's a great foundation, and then we can adjust and adapt it to our specific customer needs," he explains. "It's good to have a solid foundation to make sure you have confidence in the quality and reliability [of the technology]."
Granqvist says the solutions being developed will vary by application and there will be no one size fits all system. "We want to have a baseline platform in our group, and then we will adapt it."
The company's goal is to provide customers with a complete system and be a system integrator; it wants to provide the full powertrain with all necessary components including motors and batteries, inverters and cooling systems. "This is where we believe that we can bring the most value," he concludes. "And then the customer can focus on what they're best at" which is designing the vehicle.
Companies in this article