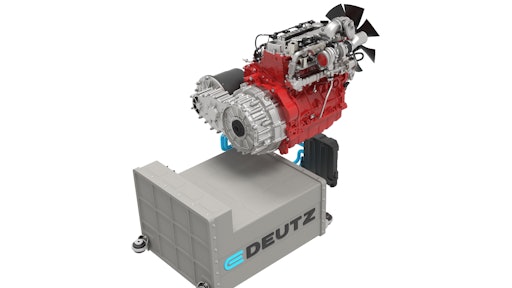 DEUTZ Corp.
Electrification has become a prominent feature in many systems within a heavy-duty vehicle or piece of equipment, including the engine system. Volvo Penta recently announced its plans to provide electrified power solutions by 2021. And at this year's INTERMAT, both Cummins Inc. and DEUTZ Corp. revealed their engine electrification concepts consisting of a battery pack, engine, and various electronic components.
Dr. Frank Hiller, CEO of DEUTZ Corp., said during a press conference at INTERMAT that the company sees electrification as a way to considerably reduce overall operating costs for customers. This is due to the lower fuel consumption and improved dynamics electrified systems have the potential to provide.
In its recent announcement, Volvo Penta said it will offer both hybrid and all-electric solutions. The company will leverage knowledge within the Volvo Group, which has had a focus on hybridization and electrification for several years. "Volvo Penta is embracing the electric transformation…." said Bjorn Ingemanson, President of Volvo Penta. "We will take a full systems supplier approach helping our customers in the transition to the new technology. This will happen application-by-application, on the basis that the business case for switching to electric will differ across our many customer segments."
"It's [a] really exciting time for Cummins and [the] off-highway industry," said Julie Furber, Executive Director, Cummins Electrified Power Business, during the company's press conference at INTERMAT. "[We] seem to be moving from a one-size fits all world where diesel was the answer to a world where there will be a variety of solutions to meet customer needs."
Cummins announced in February the formation of its Electrified Power Business unit "recognizing the importance of electric power as we move forward, and also the criticality of this segment for Cummins," said Furber. She noted that as the company looks to become the leader in electrified power in all of its markets, it will be investing around $500 million in this business segment over the next 3 years.
Part of this investment included the acquisitions of Brammo Inc., located in the U.S., and Johnson Matthey's U.K. battery business. "Both of these acquisitions form the foundation of our investment in battery packs as we go forward," said Furber. "We see this as a critical part of the overall system."
Most recently the company acquired Silicon Valley-based Efficient Drivetrains Inc. (EDI), which designs and produces hybrid and fully-electric power solutions for commercial markets. These acquisitions enable Cummins to leverage existing expertise in order to more easily bring its electrification strategy to the on- and off-highway markets.
How the systems work
According to Furber, the disparate loads and duty cycles of the off-highway sector lend themselves well to the various solutions which can be offered in the marketplace. She said Cummins is looking at a variety of options, including range extenders, plug-in hybrid systems and fully electric systems. "That will provide our customers with the best solutions to meet their overall objectives, be they cost effectiveness, productivity or sustainability, or a combination of all of those," she said.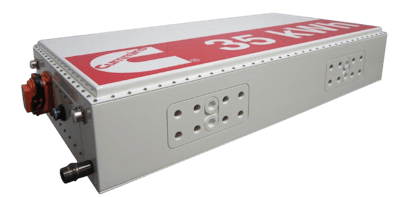 Cummins' battery electric system will provide pure electric power with zero emissions on a single charge, and be best suited for machinery such as drills, underground mining equipment, and terminal tractors.
At INTERMAT, the company introduced its range extended electric driveline (REEV) which is designed to provide greater flexibility and mobility. This is due to its ability to operate in either battery-only mode with zero emissions output or engine generator mode in which ultra-low emissions are achieved. The REEV works as a full battery solution with the ability to be recharged overnight.
The system shown at INTERMAT, suited to power a piece of equipment such as a wheel loader, consisted of a 35 kWh battery pack and a 4-cylinder, Stage V F3.8 engine powered generator. "It's designed to replace a standard driveline which would normally use a much larger Cummins, or competitive diesel engine, up to [a] 9 L (2.4 gal.) capacity," Furber said.
Electronic control logic used in the system blends the energy used between the engine generator and the battery to best suit operational needs. When battery capacity gets below 30%, the control logic tells the engine to start up and recharge the battery.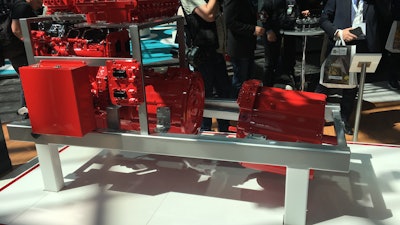 A high-efficiency traction motor is also included, providing a continuous torque output of 1,850 Nm (1,364.5 lbs.-ft.). This eliminates the need for gear shifting and dramatically reduces powertrain noise, said Furber. "An instant peak torque boost for up to 3,400 Nm (2,507.7 lbs.-ft.) is available when the machine hits difficult working conditions," she added.
Furber said the REEV is the most appropriate and flexible solution for a wide range of industrial equipment. "Our concept is modular, so it could be applied to a variety of equipment, and offer the same range and operation as you see today with a diesel solution, yet will deliver significant improvements in efficiency and emissions," she explained.
The system's modularity enables it to be aligned so it best meets the capability and duty cycle needs of the application. Its high-density battery enclosure and engine can be sized to provide the best balance between ultra-low emissions and zero-emission operation, she said.
The REEV shown at INTERMAT, for instance, featured a 35 kWh battery pack which would provide about 2 hours of battery power. The number of battery packs used in an application would be dependent upon how long the machine needed to operate while producing zero emissions.
Furber said the REEV concept is viable for applications where even lower emissions are required to improve air quality, particularly true in urban and port side environments. For example, a mobile crane could use the diesel engine for transport to and from the work site, and be plugged in for the actual crane operation. "This will allow silent working with reduced tailpipe emissions on urban construction sites," she explained. "And then in that situation, fuel consumption is reduced up to 50% on the overall duty cycle."
In addition to the electrification systems, Cummins will provide additional products for customer support. For work sites operating Cummins-powered plug-in and electric vehicles that do not have easy access to electricity, the company will offer low-emission electrical power generation products, enabling a total turnkey solution from one supplier, said Furber.
DEUTZ announced its entrance into the field of electrification in September with the acquisition of Torqeedo GmbH. "Acquiring Torqeedo will enable us to gain electrical expertise far more quickly than with a stand-alone solution and to electrify our product range where it makes sense from a technical and financial perspective," said Hiller in the press release announcing the acquisition. "This will give us a significant advantage in a very fast-moving competitive environment. It also marks the start of our E-DEUTZ strategy, for which Torqeedo will be the catalyst."
As part of its E-DEUTZ strategy, the company introduced at INTERMAT its first off-highway hybrid drive concept. The system features a Stage V TCD 2.9 diesel engine and an electric motor. It is a 110 kW (147.5 hp) system with 55 kW (73.8 hp) coming from the combustion engine and 55 kW coming from the electric motor. The system also includes a 40 kWh lithium-ion battery pack.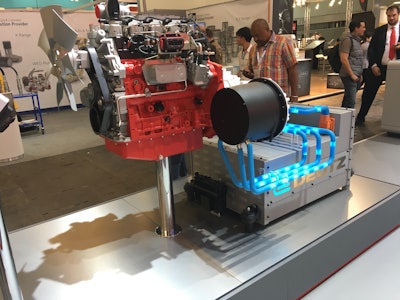 Features of the system include a boosting function and the ability to recharge the battery using the engine. Similar to the Cummins system, DEUTZ's hybrid concept allows pure electric operation when the engine is disconnected from the electrical system; this is done via the use of a transmission with integrated decoupler.
The DEUTZ system includes start-stop functionality with the ability to recuperate energy, said Hiller at INTERMAT, as well as electric-powered PTOs, all of which help to further increase fuel savings.
Over the past several months, Hiller said most of the company's work has been in achieving modularity and scalability of its concept system. "We will come up with hybrid solutions, mainly in the sub-4 L field, and also pure electric systems, [likely] in the below 20 kW (26.8 hp) [range]," he said.
DEUTZ is now moving further forward with its electrification competency. Hiller said common working groups have been formed which bring together the expertise of Torqeedo and DEUTZ. He said the first prototypes are expected in autumn of 2018.
While electrification is on the horizon for engines and overall powertrain systems, Michael Wellenzohn, Member of the Board, Sales/Service & Marketing at Deutz Corp., said at INTERMAT that diesel will remain. "Diesel will remain because it is unbeatable in its power density and in its autonomy," he explained.
"This is the start of a long-term transition," said Ingemanson in Volvo Penta's recent announcement. "Diesel and gasoline-powered primary drive systems will remain the most appropriate power source for many applications for years to come."
Companies in this article