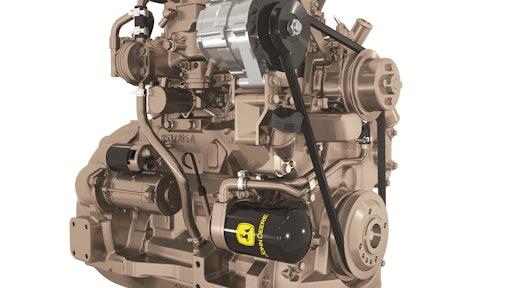 John Deere Power Systems
For several years, meeting emissions regulations was a key driver for engine design. Now that many of the key emissions regulations have been met, engine manufacturers are able to focus on other aspects. Optimization and packaging, as well as the ability to use alternative fuels are some of the areas in which manufacturers are focusing their engine development efforts.
Darrin Treptow, Manager - Platform & Application Engineering, John Deere Power Systems, provides his insight into the current trends driving next-generation engine designs.
Now that emissions regulations are not as much of a focus in the off-road sector, where is
John Deere Power Systems

currently putting its technological focus? Are there specific engine performance or component aspects on which it is concentrating?

John Deere continues to focus on developing and refining the technologies we've implemented over the years in new ways — optimizing overall engine development. From the technology side, for example, we've been able to leverage new catalyst technologies and emissions control calibrations to enable the downsizing of aftertreatment. Our newest aftertreatment solutions deliver greater package flexibility and offer easier installation while providing significant reductions in size and weight.

Read more: Technologies Come Together for Emissions Reduction

Areas of focus include improving overall package size, reducing overall engine weight, and integrating new generations of electronic control systems. We've always focused on uptime and reliability for our products, and that will be a continued emphasis as we develop our engine offerings.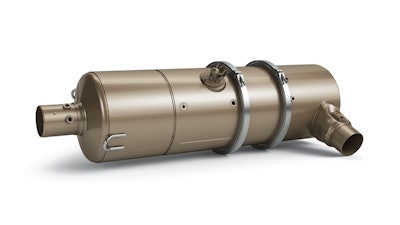 What are some of the biggest areas of opportunity for engine manufacturers at the moment?
We consider leveraging virtual analysis and telematics data a large area of opportunity. We're continuing to develop our capabilities — and advance those capabilities — using virtual analysis. Advanced modeling allows us to define and optimize engine subsystems to achieve our performance requirements.
Furthermore, by studying our telematics data, we can gain a better understanding of how our current systems and technologies are being utilized by our customers in their various applications. This analysis will help improve the next generation of solutions, further enhancing our customers' experiences.
We're also exploring new technologies that enable advanced combustion concepts for the continued improvement of diesel engine design.
Are there any particular trends or technologies you see being most prominent within the heavy-duty engine industry over the next few years?
One trend that we see now that will continue to evolve in the next few years is relying less on physical sensors. This is because engine control units continue to become more advanced and enable greater engine control and diagnostics performance.
A key trend in diesel engine design is the use of digital tools and advanced simulation. We want to be able to predict engine performance, reliability, durability, and cost before we build any prototypes, and simulation tools allow us to do so.
For example, when we developed our 13.6L engine, we used a clean-sheet design approach with more computer-model-based development. This resulted in more virtual time versus test cell time, optimizing the design and reducing engineering work. It allowed the engineering team to meet design and performance objectives — and test how various configurations would work within different machine architectures.
We'll continue to invest in simulation platforms that aid our design, development, calibration, verification, and validation activities.
Diesel engines are not going away any time soon, so how does
John Deere Power Systems

see diesel engine designs evolving in the coming years?

Engines will become smarter and more capable — not only in terms of lower emissions or higher power, but by being more reliable to run in the way applications demand. Telematics and remote diagnostics and prognostics capabilities of those systems will also continue to expand.

The focus in the future will be on the overall power system of the vehicle. Diesel engines become an integral part of the optimized power solution, which may include a hybrid powertrain.

Read more: What's Next for Off-Road Diesel Exhaust Regulations?
What role, if any, will alternative fuels or power systems play in engine designs or technology initiatives in the coming years?
Implementing more alternative power systems in off-highway equipment will depend on being able to optimize an overall power solution. This means balancing the use of mechanical and electric power. The industry will need to become proficient in finding solutions that generate the right amount of energy for the tractive power needed. Battery technology will also continue to play an interesting factor in how electrification solutions will evolve.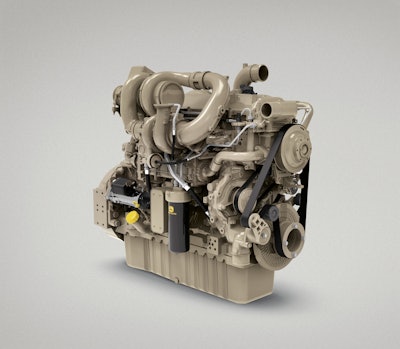 John Deere is able to offer a broad range of expertise in mechanical and electronic solutions, directly contributing toward robust, reliable alternative power architectures. The John Deere team has firsthand knowledge of how solutions will perform in the field, thanks to over 1.5 million hours of experience with our 644K and 944K Hybrid loaders.
In this emerging market for electrification technology, we are working closely with early-adopting OEM customers to understand their application needs, and are using our expertise to discover innovative ways to develop reliable, efficient, cost-effective alternatives to traditional drivetrain systems. Effective systems will need to be scalable and flexible in order to meet the wide variety of applications and needs in the off-highway industry.
Read more: John Deere Electric Drivetrain Components
We continue to support the use of biodiesel because we recognize the importance of biofuels to our customers and the environment. In fact, one of the primary advantages of biodiesel is its renewability. Due to this support, we've designed all John Deere engines to be able to use different biodiesel blends as specified in their owner's manuals.
Does the company have a specific vision for the future of engine design or where it sees the industry heading in the next decade?
Customer and industry needs continue to be the primary drivers of next-generation engine design. This will result in engines that offer optimized and simpler systems while meeting power and reliability demands.
One way we've already seen optimized engine design meet customer needs is with our 13.6L engine. Customer requirements such as performance, flexibility, and serviceability greatly influenced engine design from the start. To achieve these goals, the overall design was simplified wherever possible — making it compact and reducing the vibration. In fact, the 13.6L engine offers increased power and torque with a smaller footprint and less weight than the 13.5L engine.
The 13.6L engine also offers improved serviceability compared to previous engine models — meeting another need expressed by our customers. The better serviceability was a direct result of early engineering work and the clean-sheet design.
Continuing to leverage analysis-led design will play a major role in future engine development. With the results we've seen and experienced, it's clear that using the latest technologies to specifically deliver on our customers' biggest needs will shape the future of engine design.
Companies in this article