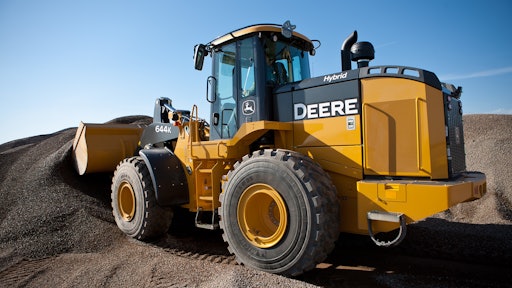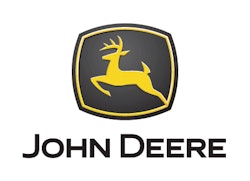 John Deere Power Systems (JDPS) is highlighting its Stage V certified engines, and integration capabilities for OEMs at Agritechnica 2019.
Stage V technologies from John Deere are built upon years of engine and application engineering expertise — a valuable resource for OEMs as they continue to navigate the transition to Stage V. The company has accumulated more than 1 billion hours of global experience with diesel particulate filter (DPF) technologies since first introducing them in 2011.
DPFs are now required in many applications to meet Stage V emissions regulations as they are the only technology capable of meeting the strict emissions targets.
Read more: Engine Optimization for Stage V
JDPS has optimized its aftertreatment technologies to ensure flexible integration for OEMs. Depending on the engine model, aftertreatment size and canister weight have been reduced in comparison to previous Stage IV solutions.
Through its dealership network JDPS can develop personalized solutions for specific application and machine design needs. These solutions are developed as a collaborative effort between the internal engineering team at JDPS, distributor engineering teams and OEM engineering teams.
Clean-slate innovation on the new 13.6L engine
The newest engine included in the Stage V lineup is the 13.6L industrial diesel engine. The 13.6L engine was built with a clean-sheet design, offering new levels of reliability, flexibility and serviceability — all in a compact package that is easy to integrate and simple to maintain. The clean-sheet design allowed John Deere engineers to leverage the technologies it developed over the years to optimize its products to best address market and customer needs.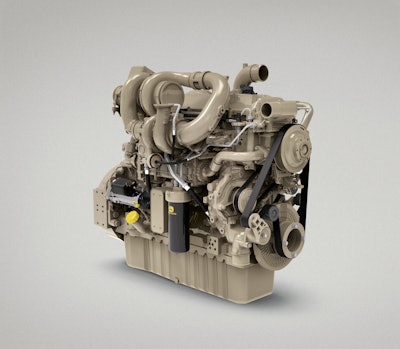 The 13.6L is designed for larger agricultural applications and is rated for continuous, heavy-duty and intermittent applications from 300-510 kW (400- 684 hp) at 2,100 rpm.
Electrification fit for agriculture
Earlier this year John Deere introduced new electric drivetrain components to enable the development of hybrid and full electric off-highway equipment, including agricultural machinery. These components include compact, high-speed motors controlled by power electronics from John Deere Electronic Solutions (JDES).
"Increasing productivity is always a key concern in the agriculture sector, and exploring hybrid solutions could offer a new way to achieve both total cost of operation and efficiency benefits for specific applications," says Darren Almond, Strategic Marketing Lead — Electrification at John Deere Power Systems. "Other markets that were early adopters of electrification technology have seen significant improvements in fuel efficiency and productivity. For example, our John Deere 644K Hybrid Wheel Loader delivers up to 25% better average fuel efficiency than its conventional John Deere counterpart."
In fact, electrification is already impacting the agriculture sector with John Deere precision planting solutions like ExactEmerge. The introduction of the eAutoPower electric Infinitely Variable Transmission (IVT) was recently awarded the only gold medal for the Innovation Award Agritechnica 2019. One key feature of the IVT is the first of its kind ability to off-board electric power to the implement.
The new electric drives JDPS offers to OEMs are specifically designed for reliability and durability to meet customer demands. The components are integrated into various John Deere pump drive and transmission solutions, resulting in a flexible drivetrain portfolio for ease of implementation.
"These solutions are modular, so OEMs can start to introduce electrification solutions within existing machine forms. This is especially valuable for market segments where electrification is still new — like agriculture — because it allows OEMs to start with a few electrified applications without significantly disrupting their base vehicle design," Almond says.