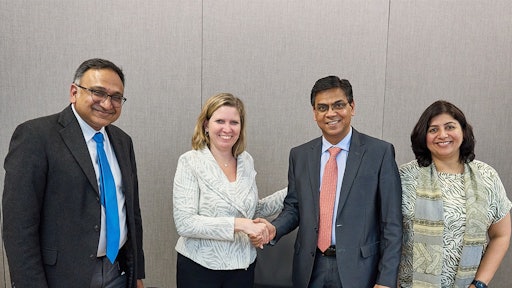 Cummins Inc.
Cummins Inc. announced that it signed a definitive agreement with Tata Motors Limited to produce low- to zero-emissions technology products in India over the next few years. The agreement was signed by Jennifer Rumsey, Cummins' president and CEO, and Girish Wagh, executive director, Tata Motors, at Cummins' headquarters in Columbus, Indiana.
After signing the agreement, Rumsey said, "Progress requires partnership, and I am delighted that we are embarking on this decarbonization journey with our trusted partner of 30 years, Tata Motors. Together, we will advance low- and zero-emissions technologies in a way that is best for our customers, communities and the planet. By doing so, we are also unlocking new opportunities to innovate for our employees all over the world and those who share our passion for powering a more prosperous world."
Senior officials and dignitaries from Cummins, the company's India leadership team and Tata Motors were present during the signing of the agreement. Tata Motors and Cummins have a 30-year partnership through their joint venture Tata Cummins Private limited (TCPL) in India, established in 1993.
The signing of this definitive agreement further strengthens their relationship and is a step forward from the Memorandum of Understanding (MoU) signed between the two organizations in November 2022 to collaborate on the design and development of low- and zero-emissions propulsion technology solutions for commercial vehicles in India.
Speaking on the occasion, Wagh said, "Tata Motors is leading the global megatrend of green, smart and safe mobility in India. Our goal is to achieve net zero emissions by 2045 in the commercial vehicles segment. We are collaborating with partners who believe in this vision and are delighted to further strengthen our three-decade long association with Cummins Inc. Together, we will develop and indigenize smart and green powertrain technologies to create India-specific sustainable mobility solutions. Our commitment and proactive actions towards zero-emission technologies will enable customers to progressively and seamlessly transition to cleaner and commercially viable mobility solutions, in the coming years, thus shaping the future of mobility in India."
As a part of this agreement, Cummins and TML set up a new business entity called TCPL Green Energy Solutions Private Limited (GES), a wholly owned subsidiary under the existing joint venture with a focus on the development and manufacturing of sustainable technology products that will include hydrogen-powered internal combustion engines, fuel delivery systems, and battery electric powertrains and fuel cell electric systems through the Accelera by Cummins brand. The low- to zero-emissions technologies developed by TCPL GES will be integrated into on-highway and off-highway applications for domestic and international markets. This agreement will play a pivotal role in developing sustainable powertrain solutions that will help reduce greenhouse gas emissions, improve air quality, and support India's net-zero ambitions.
Ashwath Ram, managing director, Cummins Group in India, shared his views on India being one of the first markets to receive Cummins' hydrogen engines, "I am thrilled about the collaboration between Cummins and Tata Motors, which will provide a significant boost to India's green hydrogen mission, electrification and net-zero goals. Our shared vision of a cleaner and greener India is backed by a promising combination of global technological expertise, deep understanding of the Indian market, and robust product development and manufacturing capabilities. As we move forward in our partnership, we will continue to explore new technologies and invest in research and development to commercialize them in the coming years. Our focus is on developing innovative and sustainable solutions that cater to the evolving needs of the Indian Commercial vehicle market, and we are confident that this collaboration will enable us to achieve this goal."