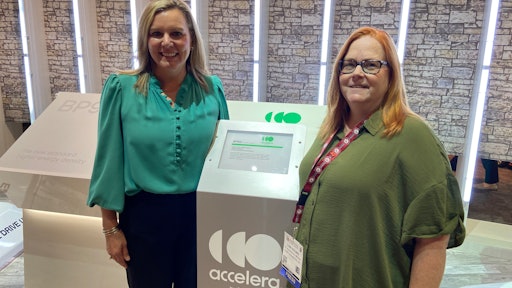 During CONEXPO-CON/AGG (CONEXPO), Accelera President Amy Davis talked with me following the Cummins press conference. We discussed the new Cummins brand and how she sees it helping the off-highway industry move to a zero-emission future.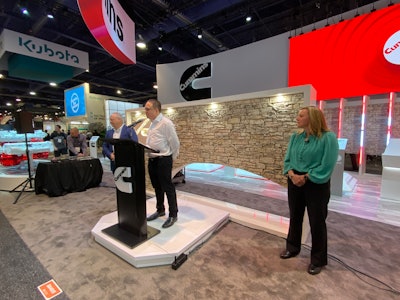 Q: How excited are you to be launching this new brand at CONEXPO and to be leading it?
A: It's awesome. I mean, of course, I've been leading this business for three years now, starting in July. So, coming up on three years, it's really a turning point. No, not a turning point but more of an evolution of this business. We started with some acquisitions that we let incubate by themselves. And then when I came in, we pulled it together into a business. And now by giving it its own legs, if you will, it unites our employees to like, hey, you know, our mission, our mission is singular. Cummins is such a great company. We're doing so many great things, but with Accelera, our mission is singular, which is zero emissions. So, let's try to bring zero emissions to the front sooner for commercial applications. I think the focus helps. It helps our employees. It helps customers know that we're serious about what we're doing. And leading, it is just the most fun thing I've ever done. It's also been challenging but really fun.
Q: We were at a Green Truck Summit last week. The conversation was that the industry must look at all power source options. That sounds like what you are doing with Accelera, right?
A: Well, we call it the most promising path forward because what we're trying to do is get some commonalities. So, by having traction systems, which is the motor and inverter--kind of the brains--and batteries, and fuel cells ... it all starts with that sort of foundation. We can combine those in ways that give us scale across applications. We think we will differentiate because, if you were going to invent the right one for every application, it would be very custom. So how do we blend standardization in some core componentry and then supplement that with either fuel cell or batteries. Battery sizing matters. The chemistry of the batteries matters. So, it's really those combinations of zero-emission solutions that we believe will work for construction equipment all the way through to heavy mining or trucks.
Q: Is there anything that you're displaying from Accelera that's new to North America or being introduced at CONEXPO?
A: Our next-gen fuel cell ... I'm not sure that the off-highway markets have seen it. It's not a new unveil, if you will. And the same thing for the BP95. It's a product that we have been talking about with customers, but it's not a new unveiled necessary.
Q: You have the whole Cummins history and knowledge base with Accelera. That's important, right?
A: I've definitely found now, on year three of leading this business, that the startup mentality is super important because it's about speed. It's about thinking differently about a business model that you may have never thought of before. Just having a clear mind around me, taking a whole different approach, and at the same time, scaling and having manufacturing expertise and repeatability once we go to market are important. We have found that pulling that in, that kind of engineering problem solving mentality, and the service capability is huge. Coming together with those cultures is what makes us unique.
Q: Is there anything that readers should know about this brand that they may not know or that you're excited about?
A: What I would just say is that this brand is a combination of innovators that came together, whether from startups or some of the long-standing work Cummins has done, and we are focused on solutions that work for commercial applications. That is what makes us stand apart. We are doing some pilots and other things. However, while some competitors focus on things that worked in passenger cars, we're really focused on applying our application knowledge. To me, the invitation is to the customers reading your article to come talk with us because we want to understand their challenges and do it together. It's about partnership. It's about customization and getting a little bit of tailoring so that we can make sure that, for their applications, they're going to live.