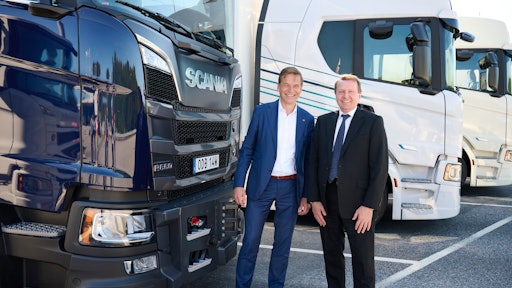 Scania
Scania has announced Consortium Purchasing group has ordered an extensive fleet of trucks to be delivered across the Culina Group, WS Group and A.W. Jenkinson Group.
The complete order consists of 2,500 trucks to be delivered over 12 months. The deal includes internal combustion engine trucks powered by the latest generation 13-litre Super drivetrain and 100 battery-electric trucks, some of the first Scania's regional-haul battery-electric 4x2 tractor units to be used on roads in the United Kingdom.
Each vehicle will be supported by three years of repair and maintenance contracts, with some trucks financed through Scania Financial Services.
Scania is a world-leading provider of transport solutions. Together with our partners and customers we are driving the shift towards a sustainable transport system. In 2022, we delivered 80,238 trucks, 4,994 buses as well as 13,400 industrial and marine power systems to our customers. Net sales totalled to over SEK 170 billion, of which over 20 percent were service-related. Founded in 1891, Scania now operates in more than 100 countries and employs nearly 57,000 people. Research and development are mainly concentrated in Sweden. Production takes place in Europe and Latin America with regional product centers in Africa and Asia. Scania is part of TRATON GROUP. For more information visit: www.scania.com