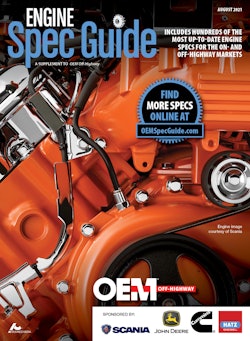 Find hundreds of gas and diesel engine systems from all of the major engine manufacturers in horsepower ranging from 1 hp to over 5,000 hp.
The online and interactive version (www.oemoffhighway.com/specguide/engine) allows you to sort, search and filter through hundreds of engines by parameters like aftertreatment, company brand, and size & weight measurements.
This is the industry's ONLY aggregated engine resource that allows you to interact with the content to find the exact engine that is right for your application. 
And a big thank you to this year's sponsors of the guide—Scania, John Deere Power Systems, Hatz Diesel and Cummins Inc.