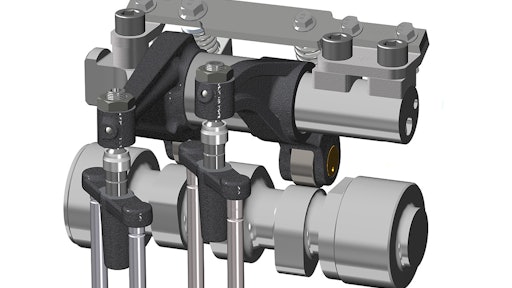 Jacobs Vehicle Systems
Despite the growing presence of electric-powered vehicles in the heavy-duty equipment industry, internal combustion engines will continue to play a role for many years to come. As such, engine manufacturers are continually working to optimize their designs.
Performance, fuel efficiency and emissions continue to be among the top areas in which manufacturers are focusing their design efforts. "We consider the engine as a complete system and try to continuously improve the durability, fuel consumption and power," says Stefan Rudert, Head of Engineering C&I and Agriculture within Rolls-Royce's Power Systems division, responsible for the MTU brand.
Fuel efficiency pays off for end customers and positively effects total cost of ownership (TCO) which is why it is a high priority for the company.
He says power ratings and curves, as well as engine behavior are also important areas in which Rolls-Royce attempts to make steady improvements with its MTU products. In addition, OEMs are demanding higher power ratings which the company is continually working to fulfill.
Rudert says market barriers such as certifications are becoming more significant, complex and important to both engine manufacturers and OEMs. "Therefore, we try to offer our customers a suitable solution for all requirements and provide worldwide accessibility [for] our engines."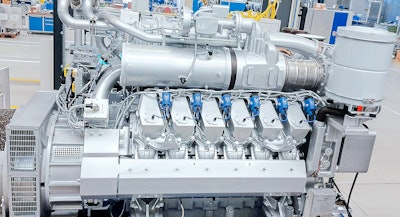 Optimizing engine designs
Rudert says Rolls-Royce's R&D strategy for its MTU engines and systems is to follow a steady process of improvement rather than major hardware changes. "This concept is designed so that minor changes do not require a new overall system," he explains. "Improvements are often made on the electronics and software level."
This capability can be seen on engines which allow over the air updates, common in the heavy-duty on-highway market. Mack Over The Air from Mack Trucks, for instance, enables remote software updates of powertrain components and vehicle parameters for trucks equipped with Mack 2017 or newer engines. "Mack Over The Air enables customers to ensure their trucks are operating at an optimal level without disrupting their schedules in today's hypercompetitive just-in-time economy," said David Pardue, Vice President of Connected Vehicles and Uptime Services for Mack Trucks, in a press release announcing the software update technology.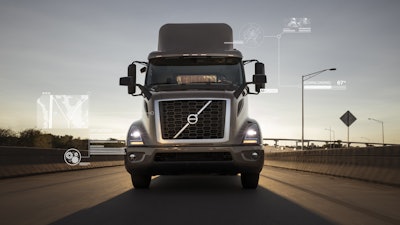 There are many ways manufacturers can go about optimizing the efficiency and performance of an engine. During COMVEC 2019, one OEM—which also manufacturers engines—noted avenues for improving engine efficiency include improving friction, reducing heat loss and ensuring efficient turbocharging.
Jacobs Vehicle Systems has developed several variable valve systems which are being developed for the on-highway market—and currently being evaluated by several engine makers and independent labs—to provide exhaust thermal management. This helps control emissions and optimize selective catalytic reduction (SCR) efficiency to meet new NOx goals planned by the California Air Resources Board (CARB) and U.S. Environmental Protection Agency (EPA), says Robb Janak, Director New Technology, Jacobs Vehicle Systems.
"Many of these technologies also provide significant improvements in fuel consumption that helps lower harmful emissions, which align with the CO2 reductions called for under CARB, EPA, and the world markets' regulations following the Paris Accord," he says. "As these technologies are being validated in the on-highway market, they are also ready for the off-highway market as it will be challenged to meet similar goals in the coming years."
Jacobs' 2-Step Early Exhaust Valve Opening (EEVO) works by opening the exhaust valve during the expansion stroke of a normal combustion event. "This releases hot gases directly into the aftertreatment system and is used for fast warm-up, or diesel particulate filter (DPF) regeneration. Fast warm-up is essential to meeting future NOx regulations as the aftertreatment system does not start working until it reaches proper operating temperatures," says Janak.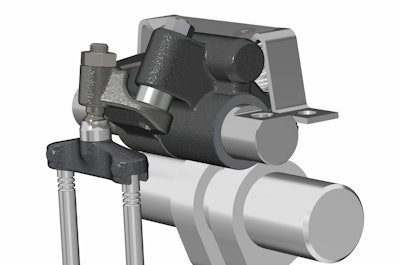 Meanwhile, the company's 2-Step Internal Exhaust Gas Recirculation (iEGR) technology opens the intake or exhaust valve when requested during engine operation to bring spent exhaust gases back into the next combustion cycle. This is used to lower combustion temperatures and NOx. Other systems utilize an external line to feed exhaust gases back to the intake manifold to be reburned. These are done through expensive valves, stainless steel lines, and often an extra cooling system. Internal exhaust gas recirculation avoids extra complexity by using the existing engine valves and a system integrated into the valve train.
Jacobs also offers Active Decompression Technology (ADT) which selectively holds an engine valve open a small amount during an engine's start-up and shut-down sequence. "The result is a dramatic reduction of engine vibration during these sequences," says Janak. "It also reduces start-up torque and overall starter system wear which allows for more frequent starts and stops to eliminate wasteful engine idling."
Cylinder deactivation advancements
In 2018, Jacobs introduced its Cylinder Deactivation (CDA) technology which is used by the company's High Power Density (HPD) engine brake. The system is designed to reduce tailpipe emissions while improving fuel economy. Janak says CDA allows a large engine to operate like a smaller engine which helps improve fuel economy. It also improves exhaust thermal management at low load and idle conditions to keep the aftertreatment system running at optimal efficiency.
CDA enables large engines to have the fuel economy of smaller engines by increasing exhaust temperatures for optimal SCR operation. The technology also helps reduce camshaft friction and pumping losses in part-load conditions.
The system uses a hydraulically-activated cylinder deactivation mechanism to disable the opening of intake and exhaust valves. Deactivated cylinders act as a gas spring and return compressed energy of the air back to the crank. While any number of cylinders with the Jacobs system are capable of being deactivated, Janak says recent tests demonstrated fuel consumption improves up to 20% when operating at the lowest engine loads with three cylinders deactivated.
Read more: Jacobs to Introduce Cylinder Deactivation Technology
Increased use of engine brakes
The HPD engine brake came about through advancements made in Jacobs' CDA technology, says Janak. "When we activate the HPD system, we are disabling the normal intake and exhaust events and replacing them with dedicated motions to provide two-stroke engine braking. This results in the engine providing braking power every revolution of the engine rather than every other revolution," he explains. "This doubles the brake power at lower engine speeds, which improves drivability for applications that would require several gear shifts to achieve the same power with a standard engine brake."
He adds the HPD system provides a solution for engines which lose brake power due to downsizing.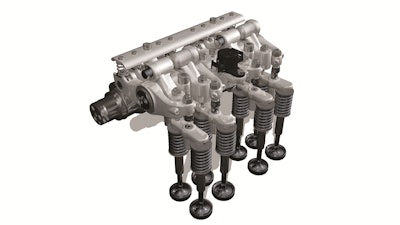 In addition, Janak notes the HPD engine brake can improve braking for natural gas engines "which historically have had limited engine braking power due to lower compression ratios and turbo selection." Use of the technology enables a natural gas engine to match or exceed the power of the same size diesel.
Janak says the use of engine brakes is expanding into new applications in the off-highway market, such as agriculture. Previously, engines in agricultural machinery could not use an engine brake because valvetrains frequently contained hydraulic valve adjusters that would not function with traditional engine brakes.
To overcome this, Jacobs developed its Fulcrum Bridge technology which allows the integration of an engine brake into these types of valve trains. It removes the need to set and adjust the mechanical clearance in the valve train between valve and camshaft, known as lash, by employing Hydraulic Lash Adjusters (HLA). Hydraulic lash adjustment allows for more consistent valve motions throughout all engine operating conditions and wear over the engine lifetime, enhancing engine performance and fuel economy.
Use of the HLA technology is beneficial for both engine manufacturers and end users. It removes potential bottlenecks on the production line that would otherwise be caused by setting lash on an engine. Eliminating the need to check and adjust lash reduces downtime for customers. The company says this process can be particularly inconvenient as a clean environment is necessary when accessing the overhead and opening the valve cover.
Manually-adjustable lash can also bring about inaccuracies which can negatively impact emissions and fuel consumption. According to the company, variance from the optimum setting by as little as 0.01 cm (0.0039 in.) may be enough to negatively affect engine breathing and efficiency. By eliminating the manual adjustment, manufacturers can ensure optimal engine performance.
Janak says the company is seeing an increased need in the market for engine brakes which work with HLAs, as well as increased braking power which the HPD engine brake can provide. It is able to increase braking power through the entire engine speed range which he said could be beneficial for mining equipment for additional downhill control.
Emissions will still be a factor
With the implementation of Tier 4 Final in the U.S. and Stage V in the EU, emissions regulations have come to a bit of a standstill for off-highway engine manufacturers. However, there have been many proposed future regulations as well as the implementation of stricter emissions standards in other areas around the world such as India and China. The heavy-duty on-road market also continues to see new regulations introduced.
Because of these and many other reasons, emissions will never not be a factor for engine manufacturers to consider.
Rudert says a Stage VI regulation could be a possibility though there are currently no known details or implementation dates. "There are discussions that future EU Stage VI legislation may specify adherence to emission limits – including CO2 emissions – over the entire useful life of the engine," he says. "However, with the completely new development of our engines for Stage V, we feel very well equipped to meet future standards."
He also notes the company continues to improve its exhaust aftertreatment technology, which will aid compliance with any future emissions standards.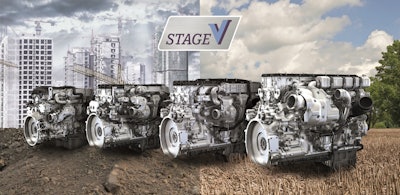 Janak says that as the off-highway industry looks toward potential future emissions regulations, it will be challenged to use some of the same solutions as the on-highway market. Because powertrain thermal management has to be safely managed in hazardous environments and space limitations within equipment can hinder the use of large cooling or aftertreatment systems, he says Jacobs believes its in-engine solutions will be beneficial. "Our variable valve actuation strategies offer performance, packaging and proven durability while allowing for the minimizing of exhaust gas recirculation and aftertreatment systems."
Going forward, Rudert says "The combustion engine will still have a long future, but not necessarily as the exclusive source of power." Instead it will likely be used in combination with other technologies.
The energy density of batteries is not yet at the point where it can be the sole power source for a large piece of off-highway equipment. But by using an engine in combination with a battery or other power source such as an electric motor, then there is the potential to employ some of the benefits of electrification without sacrificing power or productivity.
Rolls-Royce, like many engine manufacturers, is currently developing alternative drive systems which may or may not make use of an engine and are capable of meeting the needs of heavy-duty equipment.
The company is also researching other fuel options including hydrogen and synthetic fuels, produced with energy from renewable sources, which could provide viable alternatives to diesel. Alternative fuel options will provide an additional way to meet future emissions regulations as well as potential opportunities for engine optimization.
Through these research initiatives, Rolls-Royce and other manufacturers will continue to focus on the three key pillars which drive their engine designs—fuel efficiency, performance and emissions.