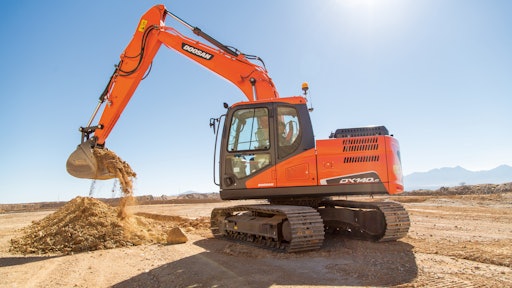 Doosan Infracore North America
OEM Industry News Briefs provides a weekly round up of the latest news and company announcements you may have missed in the heavy equipment engineering and manufacturing industries.
AGCO Power invests in engine manufacturing
AGCO's engine subsidiary AGCO Power is in the process of a multi-million euro investment in its manufacturing capabilities. These include a new expanded assembly plant and logistics center at the Linnavuori, Finland, plant. According to AGCO's press release on the subject, the investment will help to modernize and streamline AGCO Power's engine manufacturing processes.
"Upgrades such as the automated logistics center and state-of-the-art robotics support improved quality, cleanliness and work ergonomics. In addition, the investment paves way for the launch of production of a new engine family by the end of 2022," says Juha Tervala, CEO of AGCO Power, in AGCO's press release announcing the manufacturing investment.
AGCO notes in its press release some of the investment was used to overhaul the manufacturing facility's machining line. It will become a 100% automated line once fully operational which the company says enables flexible manufacturing of components in-house, reducing costs and increasing control over the production process.
"The successful completion of the project makes AGCO Power's position in the global powertrain market better than ever. The new engine product family that is being developed will serve AGCO brands (Valtra, Fendt and Massey Ferguson) more effectively and offer future solutions to customers in the off-road machinery market," said Tervala.
The company expects to complete the expansion in 2022 which will help it mark its 80th anniversary, as well as the launch of a new engine family.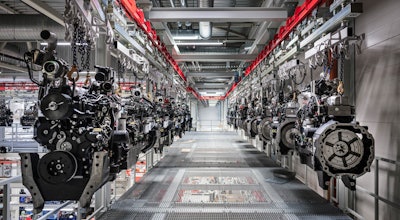 U.S. Army extends Oshkosh Defense FHTV fleet contract
Oshkosh Defense announces the U.S. Army Contracting Command has awarded it a 3-year extension to the FHTV IV contract. According to Oshkosh's press release on the subject, the company will provide new and recapitalized Heavy Expanded Mobility Tactical Trucks (HEMTT), Palletized Load System (PLS) trucks and trailers, and Heavy Equipment Transporters (HET).
According to Oshkosh, the FHTV design supports several roles due to its flexible architecture. The vehicle can accommodate several capabilities including Condition Based Maintenance (CBM), Advanced Driver Assistance Systems (ADAS), autonomy, on-board power and more.
A total of 353 new and recapitalized vehicles will be provided per the initial order.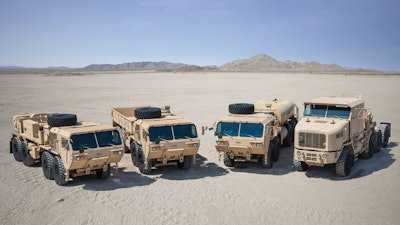 Quantron AG introduces new variants of electric transport vehicle
Quantron AG and sales partner MUP technologies GmbH have introduced two new variants of the all-electric Q-ELION transport vehicle. The M-series is designed to be an equipment carrier while the T-series is a transporter. Both vehicles provide emissions-free operation and are in registration class N1 with maximum permissible gross weight of up to 3.5 tons, which means only a Class B driver's license is necessary to operate the vehicle.
The company notes in its press release announcing the release of the new vehicles that there are a wide range of attachments available to provide flexibility for their use. A narrow design—measuring 1.6 m (5.2 ft.) wide—enables the vehicles to easily travel through narrow alleys and on sidewalks.
More on the new electric vehicles from Quantron's press release:
T-series: optimal transporter for municipalities, delivery services, factory logistics and garden centers
The T-series of the Q-ELION is used by municipalities, delivery services or garden centers. The e-vehicle is also ideal for in-house transport operations and logistics centers. The van impresses with the combination of its compact design and a high payload of up to 1.4 tons. Further plus points are the range of up to 205 km (127.4 mi.) and a top speed of 65 km/h (40.4 mph), which means that city highways can also be used to shorten journey times.
M-series: the all-rounder for municipalities, building yards and service providers
The M-series of the Q-ELION is also designed for extensive use in a wide range of work areas, such as building yards or municipal service providers. With a top speed of 65 km/h, it offers individual equipment options. For example, it can be equipped with a watering arm and water tank or a mower for green maintenance. The maneuverable equipment carrier with a range of up to 255 km (158.5 mi.) is also suitable for cleaning work or road maintenance.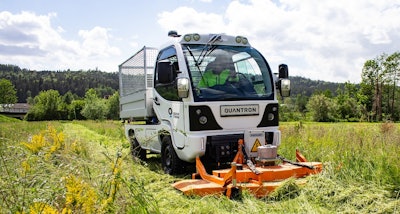 JCB Power Systems has named Precision Power Services Thailand (PPS) as its new distributor for OEM engines in South East Asia. This is the company's first presence in the region, it says in its press release announcing the new distributor.
PPS will provide sales and service support to OEMs as well as additional engineering capabilities as needed. The company is currently an approved dealer for the JCB Power Products generator range. It will now be able to provide a full range of JCB products.
In addition, JCB says that PPS will develop and manufacture a tailored solution for the oil and gas sector which will be a complete industrial power unit built upon JCB's engine platform.
Per JCB's press release, the establishment of a physical presence in Thailand is a strategic expansion for JCB given the strength of the oil, gas and agriculture sectors and the growing demand static and mobile powered equipment to serve them.
"We are excited at the opportunities the partnership will create for the global expansion of our OEM engine business," said Nick Grez, JCB Power Systems Engine Sales & Business Development Manager, in the company's press release.
Meritor and Hexagon Purus announce new electrification partnerships
Meritor Inc. announces it will collaborate with Hexagon Purus to integrate Meritor's Blue Horizon 14Xe ePowertrain into Hexagon's contracted projects. These include Class 6-8 trucks and 6x4 vehicles. Meritor says production is scheduled to begin in 2021.
"Meritor and Hexagon Purus share a common vision of bringing clean mobility solutions to the commercial vehicle market. Meritor provides the expertise in electric powertrains that will help us drive toward that goal," said Todd Sloan, executive vice president of Hexagon Purus, in Meritor's press release announcing the partnership.
READ MORE: Meritor to Begin Production of Electric Powertrains, Forms New OEM Partnerships
Hexagon Purus also announced this past week a new long-term agreement with Nikola Corp. It will develop and supply Nikola with high-performance type 4 hydrogen cylinders. Development is expected to commence in the second quarter of 2021.
"The first Hexagon Purus 700 bar hydrogen cylinders will begin testing and validation later this year in accordance with Nikola's specifications," said Michael Kleschinski, EVP Light Duty, Distribution & Cylinders, Hexagon Purus, in the company's press release announcing the agreement with Nikola.
Hexagon Purus says the technology will be certified for distribution in European and North American markets.
HED expands product and service offerings
HED Inc. has made several recent announcements related to new products and offerings for its products.
In April the company announced a distribution and system integration partnership with Accilator Technologies in Sweden. According to HED, the partnership will support its international growth strategy and full system integration capabilities.
"We are very excited to partner with Accilator. They are a high talent organization capable of providing our customers with unprecedented vehicle control system solutions," said Steve Magee, VP of Sales and Marketing at HED, Inc., in the company's press release announcing the partnership.
HED has also recently launched a telematics services billing platform designed to make it easy for OEM customers to manage their CANect Portal and cellular subscriptions in a single online platform. CANect Telematics Services Billing Platform also enables users to view billing history, usage reports virtual inventory and more says the company.
"The CANect Billing Platform provides customers with 24/7 access to self-manage their service subscriptions when they want and how they want. Features like 'just in time' provisioning will help decrease costs by allowing activation to occur at the time of deployment rather than months before," said Chad Repp, CANect Business Development Manager, in HED's press release announcing the new platform.
HED recently announced it has launched a new online customer support center, as well. The new Help and Support Center on its company website makes it easier and faster for customers to get answers to their questions about HED products and services, the company says.
Per its press release announcing the new support center, customers can access the self-help function by using the search box to answer commonly asked questions, access software downloads, user manuals and more. Users can also take specific action and submit a request for quote or issuance of an RMA. If technical support is required, there is an option to submit a "ticket" for those who require a quick response.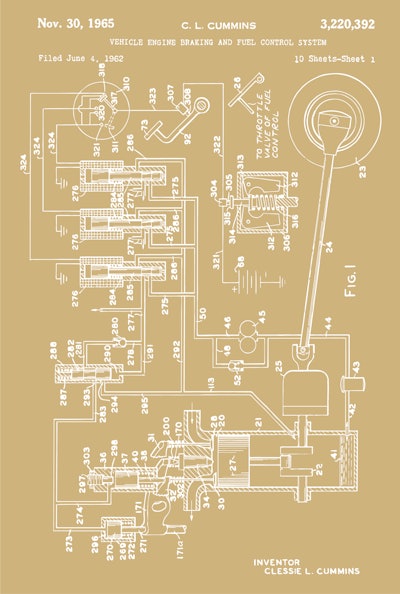 Bridgestone increases price of OTR tires
Bridgestone has announced an 8% increase on prices for U.S. and Canada Bridgestone and Firestone OTR tires and Firestone Ag Tires and Tubes portfolios. Prices for Firestone Tracks will increase 14% as well.
The company says the increase is due to its need to manage current market dynamics including escalated logistics, business and raw material costs. New pricing is scheduled to go into effect June 1, 2021.
Jacobs Vehicle Systems has announced it is celebrating its 60th anniversary in 2021. Since introducing the first engine brake for commercial vehicles in 1961, the company has continued to expand its product portfolio. The company says to date over 9 million Jacobs Engine Brakes have been produced throughout the world.
Currently the company manufactures four types of engine retarding technologies - exhaust, bleeder, compression release and the High Power Density (HPD) brakes. Its product portfolio also includes Fulcrum Bridge Technology, Variable Valve Actuation and more.
Watch our video interview with Jacobs to learn more about engine brake technology trends.
Doosan exhibiting next-gen wheel loader at World of Concrete
Doosan Infracore North America has announced plans to exhibit a new -7 Series wheel loader at World of Concrete 2021. Its new wheel loader range features redesigned operator cabs with improved comfort as well as increased bucket capacities to enhance productivity for customers. During World of Concrete the company says it will exhibit the DL380-7 wheel loader at its booth in the West Hall of the Las Vegas Convention Center.
Other features of the new wheel loader range include the integration of fuel-saving technologies and an upgrade to the axle design which enables larger load carrying and lifting capacities. A larger standard bucket on the wheel loader provides up to 7% more capacity than the previous model.
READ MORE: Doosan Next-Generation Wheel Loaders Offer More Capacity and Smart Technologies
In addition to the new wheel loader, Doosan plans to exhibit its 14-ton DX140LC-5 crawler excavator. The company says this machine is one of its most popular excavators, particularly for smaller residential site preparation work.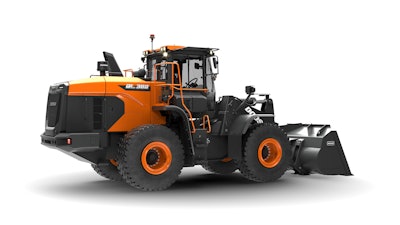 Daimler Trucks introduces chargers for electric trucks
Daimler Trucks North America (DTNA) has announced it is offering new products and services from Detroit to aid customers with their electric truck deployments. The new Detroit eConsulting services are available in three levels and provides eMobility expertise to help fleets transition to electric vehicles.
Per DNTA's press release announcing the new offerings, the three packages include:
Megaline package - recommended for large-scale electric truck deployments, customers receive assistance with planning for charging infrastructure, solar panel, and stationary energy storage projects, along with the support of the eConsulting team to interface with local utilities on their behalf. Additional services in the package include a comprehensive cost-benefit and route analysis, and assistance with capital and operating expenditure optimization.
Powerline package - includes similar benefits to those found in the Megaline package, without support for distributed energy resources (e.g. solar, storage) or the interface to local utilities.
Baseline package – free to all purchasers of Freightliner electric trucks and includes best practices and dealership-level consultation
Detroit has also introduced the new Detroit eFill chargers which are commercial vehicle charging stations. In addition to providing recharging capabilities for the recently introduced Detroit ePowertrain available in the Freightliner eCascadia and eM2 trucks, the eFill chargers can also provide charging for other brands' electric commercial vehicles. Detroit developed the charging stations in partnership with Power Electronics.
Per the press release, Detroit eFill are DC fast chargers carrying the CCS-1 standard, currently the most common type of electric vehicle charger. They are available with power ratings from 30-400 kW.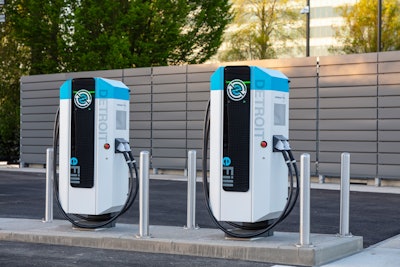 Companies in this article