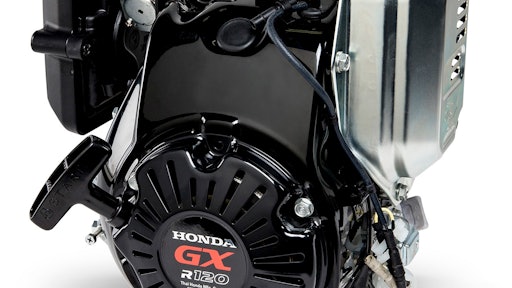 Honda is the world's largest manufacturer of engines for a diverse array of automotive, powersports, marine, and power equipment products. The company offers a complete line of small, general purpose engines for industrial, commercial, rental industry, and consumer applications. Honda engines supply smooth and dependable power for more than 3,000 different product applications including pressure washers, lawn mowers, rescue and construction equipment.
At CONEXPO-CONAGG 2017, March 7-11 at the Las Vegas Convention Center, the Honda Engines team will showcase a number of products at booth #S84834, including the new Cyclone Air Cleaner, available soon on the Honda GX160, GX200, GX270 and GX390 engine models. With a smaller footprint and a more compact design than the legacy cleaner it replaces, the Cyclone Air Cleaner fits within the overall engine shape. The smaller design specifically targets OEM applications where engine dimensions are critical. The new Cyclone Air Cleaner offers the same superior filtration efficiency with a triple-cleaning chamber that is particularly useful in commercial applications where power equipment operates in extremely dusty conditions.
Also on display will be the Honda GXR120 general purpose engine, a model uniquely developed as an ideal source of power for rammers—equipment used to compact soil or other granular material. Offered as a second power option to the reliable GX100 engine, the GXR120 engine is designed to provide superb durability and reliability for heavy-duty applications. The Honda GXR120 is capable of meeting the high demands that rammers require of the engine, frame and operator. With a displacement of 121 cc, the engine can appropriately power 110-175 lb. rammers at multiple altitudes with ease. Additionally, a special cast-iron cylinder sleeve and a high carbon-steel, dual-ball bearing crankshaft provide increased engine strength for rammer applications. To further enhance engine durability, incorporation of steel in the design makes the recoil starter and fan cover of the GXR120 robust.
GX Pressure Washer Optimized Commercial Series engines will make their debut in 2017 and be a CONEXPO-CON/AGG show highlight. These engines were specifically designed for direct-drive pressure washer applications, and the Optimized Series is available with Honda GX160, GX200, GX270 and GX390 engines. The model lineup delivers Honda's smooth and reliable power, maximized engine performance at wide-open throttle and increased power output in the GX200 and GX390 Series engines. A new feature for the Optimized engines is a fixed throttle which enables superior performance and is appreciated by the rental market.