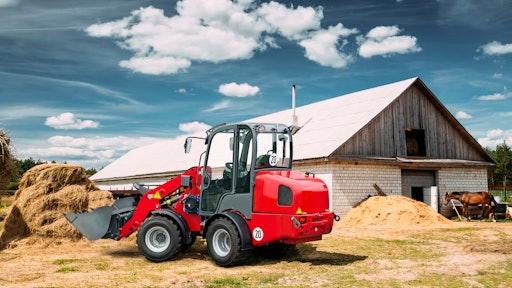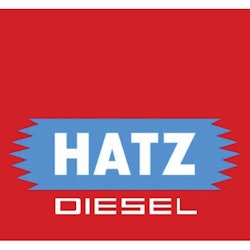 Testing engines for industrial vehicles requires a so-called experimental vehicle – as was the case at Hatz. With a wheel loader, the Hatz specialists not only test engines, but also the necessary construction of the machine to ensure that the drivetrain can be installed optimally.
Once the wheel loader is fitted with the engine, the machine can go into real operation. In Hatz's case, the vehicle will be used on a daily basis in an agricultural college. Currently, a brand-new Hatz H-series 3H50TICD is being built that also conforms with EU Stage V, thanks to its diesel particle filters.
Hatz three-cylinder: small, powerful, clean
At the end of 2017, the vehicle specialists at Hatz installed a pre-series engine from the 3H50 series in the test vehicle. After some small adjustments to the vehicle, the Hatz 3H50TICD fitted perfectly into the engine compartment, including the diesel particle filters that enable compliance with the EU Stage V emission limits. All other technical requirements of a compact wheel loader were also met: smaller dimensions, lower weight and ample torque, thanks to cutting-edge turbocharger technology combined with the robust common rail injection system (Bosch off-highway version). With just 1.5 L cubic capacity, 42 kW output and torque of 185 Nm even with low rotational frequency, reserves are amply available.
Compact EU Stage V engine for compact machines
The EU Stage V emission standard is of concern to manufacturers of compact machines in particular, since classic engines combined with the diesel particle filters required are far too big for the generally small engine compartment. It's here that Hatz's small yet powerful package can score points. In spite of low cubic capacity and small installation dimensions, the engine meets the requirements for powerful drive – and complies with EU Stage V. The Hatz 3H50TICD can replace larger engines in many cases, which saves machine manufacturers time and investments in new constructions.
Hatz test vehicle
Due to its dimensions and construction, the wheel loader is ideally suited to trial installations and testing of a wide variety of engine fittings
Long-term use of the wheel loader in an agricultural college perfectly simulates real-life use by the customer
The narrow engine space of the wheel loader is particularly well suited to the trial installation of EU Stage V engines with additional diesel particle filters
Hatz 3H50TICD
The limited installation dimensions of the Hatz 3H50TICD are ideally suited for assembly in compact machines with small engine compartments
The high torque of the Hatz 3H50TCID engine guarantees sufficient power reserves even with low rotational frequencies
By complying with the EU Stage V emissions standard, machines and vehicles are perfectly equipped for long-term use in Europe