ULEMCo, the company leading the use of ultra-low emission hydrogen-fueled commercial vehicles in the UK, has collaborated with Aberdeen City Council (ACC) to deliver the world's first hydrogen dual fuel road sweeper. The vehicles will use hydrogen fuel for around a third of the energy used to drive and operate the vehicles, making valuable reductions in CO2 emissions. 
The cleaner sweeper has been adapted by retrofitting a standard EURO 6 DAF truck to run on both diesel and hydrogen fuel. Emission savings of around 30% are projected from the refitting of ULEMCo technology onto the DAF truck, and the partners believe this makes it best in class for both CO2 and air quality emissions for this type of vehicle.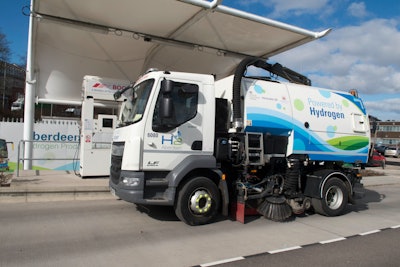 ACC will be able to refuel the sweepers at the state of the art Aberdeen City Hydrogen Energy Storage (ACHES) hydrogen station, which makes hydrogen from renewable electricity, on a daily basis. This is designed to ensure that use of dual fuel is maximised throughout the day.
"This latest initiative further demonstrates the potential for hydrogen dual fuel to make a significant impact on reducing diesel emissions from commercial vehicles," says Amanda Lyne, CEO of ULEMCo. "We have demonstrated how ULEMCo technology can be applied to many different vehicles, with practical and measurable benefits."
"The delivery of this vehicle is part of our Hydrogen Strategy to increase the deployment of hydrogen vehicles in Aberdeen City, and keeps us at the forefront of globally demonstrating the practicality and operational flexibility of hydrogen technologies, leading to future decarbonization," says Councillor Philip Bell, Aberdeen City Council's Hydrogen Spokesperson. Aberdeen claims to have Europe's largest fleet of hydrogen fuel cell buses.
The work was delivered as part of project HyTIME, within the Low Emission Freight and Logistics Trial, funded by the Office for Low Emission Vehicles (OLEV) in partnership with Innovate UK.