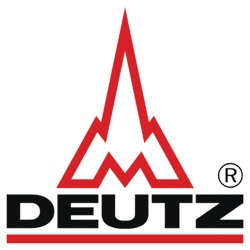 DEUTZ AG will unveil its extensive engine lineup at the 2011 AGRITECHNICA in Hanover from November 13 to 19, 2011. DEUTZ will introduce EU emissions level IV B/US EPA Tier 4 engines alongside its already established EU Level III B/US EPA Tier 4 interim engines. The world's largest trade fair for agricultural machinery will be open exclusively to dealers, trade journalists and key accounts on November 13 and 14 before opening its doors to the general public for the remaining five days.
DEUTZ, one of the leading providers of low-emissions diesel engines, has traditionally been a major player in the field of agricultural equipment. The company will present its broad array of high-performance engines ranging from 2.9 to 16 liters displacement to the general public. Engine output ranges from 25 to 520 kilowatts and all models on display conform to emission limits imposed by EU Level III B/US EPA Tier 4 interim or EU Level IV B/US EPA Tier 4. The spotlight will be on the DVERT modular approach to meet new emissions standards. This innovative system provides the ideal response to tougher emissions laws and conforms to the DEUTZ principle of applying as much technology as necessary without packing in as much engineering as possible.
DEUTZ will unveil its completely redesigned TCD 2.9 L4 for agricultural applications up to 55.4 kilowatts. The TCD 2.9 L4 conforms to the demands posed by EU Level III B/US EPA Tier 4 regulations. It is available in either naturally aspirated or turbocharged versions and comes optionally equipped with an intercooler. It features cooled external exhaust-gas recirculation and common-rail high-pressure fuel injection. The extremely smooth compact straight four-cylinder 2.9 liter engine delivers high specific horsepower and torque. Its maximum torque of 255 Nm is up to 15% higher than that provided by comparable Tier 3 engines.
The spotlight will also be on the TCD 3.6 L4, a water-cooled four-cylinder engine that meets the requirements for mobile devices imposed by EU Level III B and US EPA Tier 4 interim. Equipped with a turbocharger and common-rail system, the TCD 3.6 L4 generates up to 90 kilowatts and maximum torque of 480 Nm. An intercooler is available as an option. 500 operating hours between oil changes, a maintenance-free valve train and the compact EAT system add up to lower maintrnance costs and higher availability.
DEUTZ is presenting two models of its six-cylinder 6.1 liter engine ranging up to 203 kilowatts. The water-cooled TCD 6.1 L6 (EU Level III B/US EPA Tier 4 interim) is a robust six-cylinder turbo-charged engine with intercooler and peak torque of 1.171 Nm. Thanks to its SCR technology (Selective Catalytic Reduction), it is not necessary to enlarge the radiator, as is the case with Tier 3 engines.
Also making its debut is the water-cooled TTCD 6.1 L6 (EU Level IV B/US EPA Tier 4), a straight six, twin turbo engine with a peak output of up to 203 kilowatts, turbocharger and peak torque of 1.171 Nm. Due to its superior engineering, the TTCD 6.1 L6 conforms to particularly stringent emissions in green zones.
DEUTZ will also be unveiling a new engine in the 170 to 276 kilowatt category and EU Level IV B/US EPA Tier 4. The water-cooled six-cylinder TTCD 7.8 L6 twin turbo comes equipped with intercooler, cooled external exhaust-gas recycling, plus DEUTZ Common-Rail high-pressure fuel injection (DCR). Thanks to its exhaust-gas treatment system, noise has been reduced to >25 db (A), rendering additional muffling unnecessary.
For high-end applications up to 390 kilowatts, DEUTZ will roll out the TCD 12.0 V6 (EU Level III B/US EPA Tier 4 interim) at the show. The water-cooled engine is turbocharged and features an intercooler. DEUTZ common-rail high-pressure fuel injection (DCR) in conjunction with electronic motor regulation (EMR 4) intelligently combined with drive-train management enable top performance and fuel economy. Its compact design, coupled with power takeoffs both in front and in back, with up to three auxiliary power takeoffs and total torque of up to 520 Nm, reduce installation costs and step up the number of possible applications.
DEUTZ once again takes a commanding lead by presenting engines in the EU emissions category Level IV B/US EPA Tier 4 at the AGRITECHNICA. In line with the motto "Are you ready 4 facts?," actual exhibits and digital media will illustrate the innovative DVERT (DEUTZ Variable Emissions Reduction Technology) system. This integrated solution, consisting of engine and exhaust technology, reconciles stricter emissions limits with the customer's need for economy, return on investment and flexibility. DVERT stands for a modular, lean system of components which are compatible with different engine configurations. The various DVERT elements–external exhaust-treatment technologies such as oxidation catalytic convertors, open and closed particle filters, regenerative burn ers, plus selective catalytic reduction (SCR) may be combined to achieve the desired results with regard to performance, emissions compliance, and competitiveness. The solutions have been designed to enable later upgrades to conform to eventually lower emissions limits under EU Level IV B/US EPA Tier 4 without a great deal of modification.