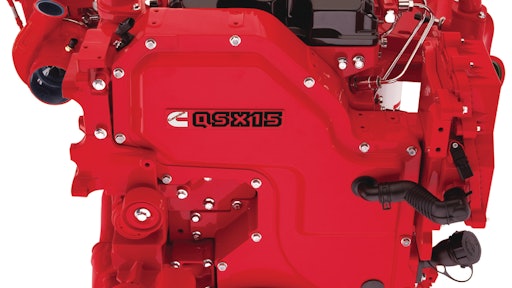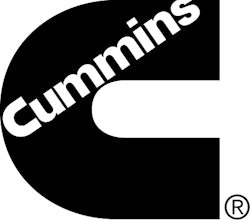 Cummins Inc. will highlight the QSX15 engine with up to 503 kW (675 hp) power output and near-zero emissions capability for heavy-duty applications at the INTERMAT construction industry show in Paris, April 16 to 21, 2012.
The 15-litre engine utilizes a next generation ultra-clean aftertreatment system, combining the Cummins Particulate Filter with Selective Catalytic Reduction (CPF-SCR) to meet EU Stage IV and EPA Tier 4 Final emissions, commencing January 1, 2014.

The 503 kW (675 hp) at 2,100 rpm top rating for the QSX15 takes the Stage IV and Tier 4 Final engine 56 kW (75 hp) above the Stage IIIB/Tier 4 Interim 2011 top rating of 447 kW (600 hp). Peak torque is almost 2,800 Nm. Engine power density increases to 34 kW (45 hp) per liter to offer a new level of power capability for premium performance machines operating in the toughest construction equipment applications.

To meet the 2014 regulations, particulate matter (PM) reduces to 0.02 g/kW-hr, and oxides of nitrogen (NOx) reduce to 0.40 g/kW-hr. Compared to Stage IIIB and Tier 3 emissions levels, this represents a 90% reduction in both PM and NOx. The near-zero emissions levels are achieved while also improving fuel-efficiency and power output.

At current Stage IIIB and Tier 4 Interim emissions levels, the QSX15 engine is capable of achieving up to 5% improved fuel efficiency, depending on duty cycle and machine optimization. Fuel efficiency will be further increased by an additional 3% to 4% for Stage IV and Tier 4 Final.

The CPF-SCR ultra-clean aftertreatment raises the threshold of what can be achieved when lowering emissions and improving fuel efficiency, by precisely balancing emissions control between the aftertreatment and engine combustion with cooled Exhaust Gas Recirculation and the Xtra-High Pressure Injection (XPI) fuel system. With this higher threshold, the QSX15 realizes both higher fuel efficiency and improved power output.

This capability to design, integrate and manufacture all the key engine technologies and aftertreatment as a single system provides a unique advantage for Cummins.

Pre-Designed For Final
The ability of the QSX15 to move forward to meet the 2014 near-zero emissions standards is pre-designed into the existing engine platform, with no significant change required for the engine system architecture. The engine retains a single Cummins Variable Geometry Turbocharger (VGT), avoiding the complexity of needing two turbochargers to achieve high power output.

The QSX15 engine continues to offer an installation advantage with a smaller envelope space claim than many equivalent output engines. The need for machine integration flexibility at Stage IV and Tier 4 Final is also recognized, with the CPF-SCR aftertreatment system available in multiple configurations, including switchback, horizontal and vertical.

Cummins Direct Flow air cleaner technology brings a further installation advantage with a smaller profile than typical cylindrical cleaners, together with the benefit of extended service change intervals.

CPF-SCR Ultra-Clean Aftertreatment
The SCR system developed by Cummins for Stage IV/Tier 4 Final is a next-generation design that moves beyond current SCR technology, incorporating a copper zeolite-based catalyst capable of up to 95% NOx conversion and able to operate more efficiently at lower temperatures. The system features advanced sensors to provide full closed-loop control. AdBlue diesel exhaust fluid dosing levels are minimized with an enhanced mixing technique.

The Cummins Particulate Filter (CPF) includes both a diesel oxidation catalyst and the wall-flow filter, providing an additional margin of PM emissions control at the higher engine loads and power outputs of heavy-duty engines. With this higher PM filtration efficiency, the engine combustion can be formulated to increase power density and lower fuel consumption.

The integration of SCR into the exhaust aftertreatment allows the CPF to reduce the frequency and duration of active regenerations below 1% of equipment operating time, creating a virtually full-time passive device.