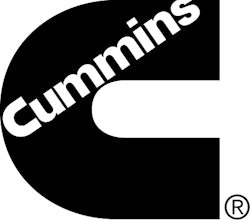 Cummins Inc. announces the expansion of the on-highway natural gas engine lineup with the Cummins Westport ISX12 G and the signing of an amended joint-venture agreement with Westport Innovations.
The ISX12 G is built on the Cummins ISX12 and utilizes the same base engine and key components as its diesel counterpart. It features Cummins Westport's proprietary spark-ignited combustion technology with Stoichiometric cooled Exhaust Gas Recirculation (SEGR), first introduced on the 8.9-liter ISL G.
The ISX12 G will feature Three-Way Catalyst aftertreatment, which is packaged as a muffler and is maintenance-free. Preliminary specifications include ratings up to 400 hp (298 kW) and 1,450 lb-ft (1,966 Nm) of torque and an optional engine brake. The engine will run on either compressed or liquefied natural gas. The ISX12 G is expected to be certified at launch to meet the U.S. Environmental Protection Agency (EPA) and California Air Resources Board (ARB) emissions standards of 0.20 grams per brake horsepower-hour Oxides of Nitrogen (NOx) and 0.01 grams per brake horsepower-hour Particulate Matter (PM). Additionally the engine is expected to be capable of meeting Euro VI and pending U.S. greenhouse gas and fuel-efficiency regulations.
"The ISX12 G is a terrific addition to the Cummins and Cummins Westport product lineup. It is the first heavy-duty spark-ignited natural gas engine available in the North American market and builds on the proven success of our ISL G," says Ed Pence, Cummins Vice President and General Manager - Heavy Duty Engine Business. "The ISX12 G will be well-positioned to lead in heavy-duty vocational and regional-haul markets. As natural gas production grows in North America and the fuel becomes more readily available, customers are showing increasing interest in natural gas power."
The ISX12 G has been designed and developed using Cummins robust product development processes, and it is entering the final stages of field-testing now. The engine will be manufactured at Cummins' Jamestown Engine Plant in Jamestown, NY, and will be serviced and supported by Cummins' extensive distributor and authorized dealer network. Production availability is scheduled for early 2013.
Partial funding in support of the ISX12 G engine development has been received from the U.S. Department of Energy's (DOE) National Renewable Energy Laboratory (NREL) and the California Energy Commission in conjunction with the Gas Technology Institute.
Additional terms and conditions of the joint-venture agreement were not disclosed.