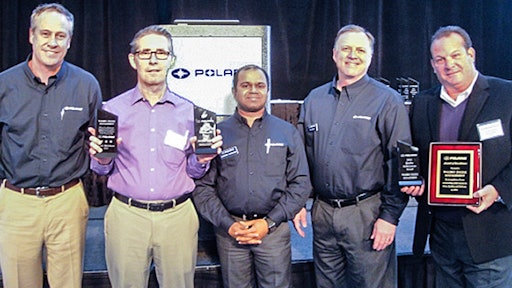 Walbro Engine Management LLC has received the coveted Polaris Industries' Award of Excellence for its 2012 performance.
"Polaris is thrilled to present Walbro with the supplier of excellence award for outstanding performance in 2012. Walbro has demonstrated outstanding performance in terms of quality, cost competitiveness, on-time delivery and flexibility. We greatly appreciate the hard work and dedication of the entire Walbro team members who have contributed to this achievement," states Mark McGeary, Purchasing Manager, Polaris Industries Inc
This award was given in recognition of Walbro Engine Management's superior performance as a supplier of fuel storage and delivery systems for Polaris ATV, Side x Side and snowmobile vehicles from its Cass City, MI, facility.
"We are honored to have the opportunity to work with Polaris and proud to be recipients of this prestigious award of excellence," states Chris Quick, General Manager of Global Recreation Marine/Fuel Systems, Walbro Engine Management. "Our team is extremely customer focused and strives to be the best at design, development and ongoing delivery of quality fuel systems. The team has worked hard at developing efficient, flexible manufacturing systems to shorten time to market and reduce overall costs. It is the ultimate compliment when our key customers recognize our efforts. We value our partnership with Polaris as we continue to grow market share together," notes Quick.