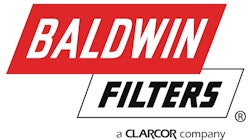 Baldwin Filters recently welcomed distributors to Baldwin University, a three-day filtration seminar at its headquarters in Kearney, NE.
Distributors from the United States, Canada, Morroco and Israel joined Baldwin employees from the United States and Canada to learn more about filtration and specifically the Baldwin advantages in the marketplace.
"Baldwin University is designed to give both our distributors and our employees a deeper understanding of Baldwin and how we approach the manufacturing and marketing of filtration products. By including both distributors and employees, the attendees gain different perspectives about our filters and their value in the marketplace," says Steve Englund, Baldwin Training Manager.
Baldwin University, which is presented by Baldwin design engineers and other staff members, is designed to broaden awareness of today's filtration theories and practices. Plant and lab tours demonstrate the construction of Baldwin's product line and examine research being done on existing and future filtration concepts.
Information about Baldwin Filters' Cataloging, Customer Service, Quality Assurance and Technical Services are a part of the course. Discussions about preventive maintenance practices, and extended oil drain intervals - all concerns of today's heavy equipment operator - are also featured during the seminar.
Baldwin University will continue in 2013 with a seminar scheduled for October.