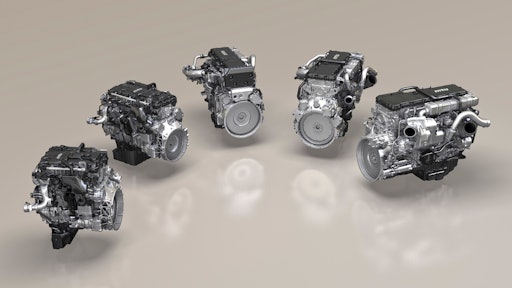 At the bauma trade show from April 15 to 21, 2013, the Tognum Group will be presenting its MTU diesel engines and MTU Onsite Energy gensets. On display at booth no. 211/310 in hall A4 are engines that deliver outputs from 100 to 3,000 kW and are able to meet the emissions regulations EU Stage IV and US EPA Tier 4 Final that will be coming into force in the future. In the open-air area of the show (between hall A4 and A5, section 106), MTU Onsite Energy is showing its diesel gensets for power generation.
For power outputs under 560 kW, MTU presents its 4- and 6-cylinder Series 1000 inline engines and 6-cylinder Series 1100, 1300 and 1500 inline engines. Equipped with SCR, these engines comply with the EU Stage IV and EPA Tier 4 Final requirements to apply from 2014. Engines with power outputs from 100 to 460 kW are used, for example, to drive telescopic handlers, rotary snow ploughs, haul trucks, wheel loaders, mobile cranes, excavators and underground mining vehicles. For countries with less stringent emissions rules, MTU will continue to supply its renowned Series 900, 460 and 500 units for power outputs from 75 to 480 kW.
From 2014, 10- and 12-cylinder Series 1600 units will be extending the engine range available up to 730kW. These off-highway engines are suitable for use in haul trucks, wheel loaders, pump drives, and mining vehicles. They meet EPA Tier 4 final requirements through the use of high-pressure common rail injection, two-stage turbocharging and exhaust gas return with cooling system. To keep fuel consumption as low as possible, MTU has focused strongly on optimizing combustion processes. Overall, customers benefit from the low operating and conversion costs of the integrated system.
MTU's product portfolio also includes 12- and 16-cylinder Series 2000 engines covering outputs from 567 to 1,000kW for use in mining vehicles. EPA Tier 4 engines using in-engine technology only are available in the 783 to 970 kW power range. MTU supplies Series 4000 engines with 8, 12, 16 and 20 cylinders for outputs up to 3,000 kW and these meet the EPA Tier 4 legislation that applies in the US without the need for exhaust aftertreatment. A new addition to the line is the 12-cylinder Series 4000 version that is compliant with EPA Tier 4 Interim rules. These engines are built for long-term service in wheel loaders, excavators, haul trucks, construction machinery for underground mining applications, and in heavy-duty mining vehicles for operation in surface mines and stone quarries. MTU's renowned Series 2000 and 4000 units continue to be available for countries with higher emissions thresholds.
MTU's engine portfolio is enhanced by the use of automation technologies such as ultra-modern starter systems based on capacitors rather than batteries. Engine availability, reliability and efficiency is further guaranteed by MTU's comprehensive MTU ValueCare service package which includes customer-specific maintenance contracts, original MTU spare parts, and consumables such as coolants, engine oil and filters.
Tognum's diesel gensets for power generation carry the MTU Onsite Energy brand. Included in the display at bauma is a hooded genset based on a 12V Series 1600 engine that delivers 660 kVA power output and is suitable for outdoor use on building sites. Sound-proof and weather-proof, the genset hood protects the genset from weather influences and contamination and insulates against noise. Another showpiece from MTU Onsite Energy is a 40-foot containerized genset based on a 16V Series 4000 engine with 2,595 kVA output. Turnkey containerized diesel gensets are suitable both for stationary and mobile applications. They include full system engineering with cooling and control systems and are convenient to install on site.