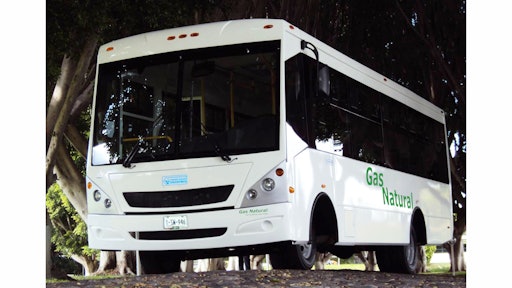 Omnitek Engineering Corp. announces that the 6.6 liter natural gas engine manufactured by Arizona-based U.R.E. and equipped with Omnitek's proprietary natural gas engine management system has received EURO 4 emissions certification in Mexico, which is expected to accelerate demand to power buses manufactured by Master Road, based in Puebla, Mexico.
Omnitek had previously announced an order for the company's proprietary natural gas engine management technology to power buses manufactured by Master Road.
"EURO 4 emissions certification is a competitive advantage and not easily achieved. Mexico represents a significant market for natural gas engines, and Omnitek is particularly well-positioned now to accelerate sales through our relationship with one of the world's leading bus manufacturers. Master Road offers a great line up of bus models − including inner city to long-range tourist buses," says Werner Funk, President and Chief Executive Officer of Omnitek Engineering Corp.
"Our company is committed to innovative technologies and working with leading suppliers worldwide. We selected U.R.E and Omnitek's natural gas engine technology based on the superior engine performance in the field, excellent fuel efficiency and low emissions validated by EURO 4 certification," says Alfonso Ferez, Chief Executive Officer of Master Road.