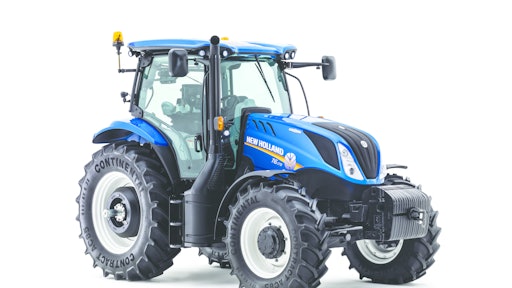 New Holland Agriculture launches the new T6 all-purpose premium tractor series that combines ultimate power with advanced technology to deliver unmatched comfort, visibility and maneuverability together with more power and performance. The new range, which made its first public appearance at the World Ag Expo in Tulare, CA, also introduces New Holland's sleek new tractor family styling.
"Unmatched comfort, visibility, maneuverability, and higher power and performance that you can feel – that's what defines our new T6 Series all-purpose, heavy-duty tractors. These tractors combine uncompromised power, the most advanced technology, and more features for more farming productivity," says Michael Cornman, Dairy and Livestock Marketing Segment Leader.
A powerful and highly efficient performance with Tier 4 Final ECOBlue Hi-eSCR solution and advanced engine technology
The new T6 complies with Tier 4 Final emissions standards with New Holland's ECOBlue Hi-eSCR (High-Efficiency Selective Catalytic Reduction) technology. With this aftertreatment system the engine breathes clean air, optimizing combustion, torque rise and fuel efficiency.
The new 4-cylinder engine achieves better performance by maximizing power output from each cylinder. The new engine control unit brings the engine to maximum torque mode faster and holds through the lower rpm longer, outperforming the previous generation's engine. The Engine Power Management delivers extra horsepower when under load. Engine Speed Management ensures speed is maintained under changing loads, for applications that require a constant PTO speed or to maintain a fixed forward speed in difficult terrain.
The new T6 features an ample 52.2 gallon high-clearance fuel tank that can be augmented with a new auxiliary modular fuel tank that expands capacity to 58.6 gallons – enough fuel for a 12-hour day or more.
All these features result in a powerful, responsive and efficient performance that is achieved with the same fluid consumption (diesel fuel and DEF) as the previous generation, and with longer refueling and oil change intervals.
Unmatched operator comfort and all-round visibility create the conditions for ultimate productivity
The Horizon cab provides the operator with the ultimate work environment: from the dual-zone air conditioning to the enhanced instrument panel; from the further reduced noise levels at 69 decibels to the Sidewinder II armrest that puts all the commands at the operator's fingertips in the Auto Command models; it all adds up to unmatched comfort.
The cab also provides exceptional visibility in all directions with the single-piece windscreen, 63 sq. ft. of glass and, for loader work, the high-visibility roof panel. In addition, all T6 models feature standard LED work lights that provide exceptional illumination for after-daylight operation. The eight LED lights of the Value models deliver 15,600 lumens, 77% brighter than the work lights on the previous generation. On the Plus, Elite and Auto Command models the new LED work lights are up to 31,200 lumens, more than four times as bright as their predecessors.
Designed to provide a smooth ride, unrelenting traction and unrivalled maneuverability
The new T6 combines a longer wheelbase of the previous model but has retained a tight turning radius of 15 ft. 1 in., which is further reduced to 14 ft. 1 in. with the SuperSteer front axle. The unrivalled maneuverability makes all the difference when working with a loader or turning at the headland.
The wheelbase of all models is now similar to previous 6-cylinder range, where the standard FWD axle is 104 in., the optional TerraGlide suspended front axle is 106 in. and the optional SuperSteer axle is 110 in. This longer wheelbase delivers better traction and an exceptionally smooth ride during field operation and transport. For an ultra-smooth ride, T6 can also be equipped with Comfort Ride cab suspension.
A host of features to maximize productivity and ease of operation
The new T6 bristles with features that boost productivity and make it easy to work efficiently. It can be ordered from the factory "auto-guidance ready" or with New Holland IntelliSteer "auto-guidance complete" installed and ready to use. Plus and Elite models feature advanced ISOBUS Class II that makes it easy to monitor and control all implements using the tractor's monitor. Auto Command models take interactivity with the implements further with standard ISOBUS Class III (available mid-year 2015).
In addition, the new T6 is fully loader ready from the factory, and a choice of two New Holland loaders is available.
Tailored to match every customer's farming operation with a wide choice of transmissions and packages
The new T6 can be specified to match the exact requirements of every farming operation. It is available with a choice of proven transmissions, from the Electro Command semi-powershift to Electro Command with AutoShift semi-powershift or with creeper, as well as the advanced Auto Command continuously variable transmission.
The different packages provide configurations tailored to the various applications: for basic haying operations and chores, the Value package; for haying and loader operations, the Plus package offers increased performance and comfort; the Elite package provides high-performance and luxury features as well as a faster 31 mph (50 kph) transmission option; and the ultimate hay and chore configuration, the Auto Command, offers deluxe features and the highest performance, including a 31 mph option.