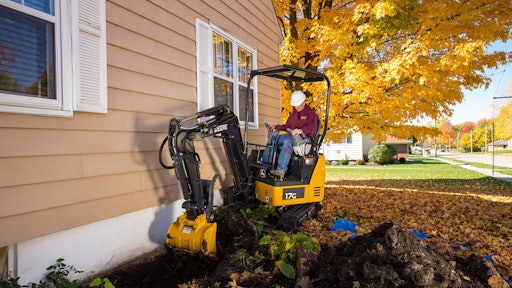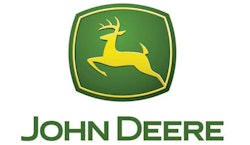 John Deere continues to upgrade its G-Series excavator lineup with the introduction of the 17G and 26G compact excavators. These machines offer a Tier 4 Final compliant engine without the need for an aftertreatment device, a spacious cab and smooth, responsive hydraulic controls. The nimble excavators were designed with the rental, commercial/residential building, landscaping, underground and site development industries in mind.
"The operator focused design of the 17G and 26G models maintain proven, John Deere reliability with a few nice refinements," says Mark Wall, Product Marketing Manager for Excavators, John Deere Construction & Forestry. "These compact machines boast big productivity and uptime features, as well as updates that focus on lower daily operating costs."
The 17G and 26G incorporate a 14.5 hp (10.8 kW) and 20.0 hp (14.9 kW) Tier 4 Final/EU Stage IV diesel engine without the complexity of an aftertreatment system. This means the customer has no DOC and no DPF, and thus no requirement for DEF. The noticeably quiet engines allow contractors to work at any place, at any time.
The 26G utilizes the same operator's station as its 35G brethren (open station or cab with heat only). The hinge portion of the door design was simplified to provide better visibility. Additionally, the door width was increased by over 3 in. to allow for easier entry and exit from the cab. The new cab has a larger front window that is 2 in. wider and 6 in. taller. The 17G cab remains unchanged from the D Series model. 
Within the operator station a new seat with adjustable wrist rests for daylong comfort was added and a suspension seat is standard. The foldable travel pedals are positioned to provide efficient operation with maximizing foot room and low-effort pilot controls deliver exceptionally smooth, combined-function performance.
While focusing on improving uptime, John Deere added a third service door to both excavators to provide improved access to the cooling core and other daily checkpoints. The cores were positioned side-by-side rather than being stacked inline to permit easier access. Extended fluid and lubrication intervals and sight gauges help keep maintenance and expenses at a minimum. Similar to all G-Series models, the compact excavator includes unique features such as an oil-impregnated boom, arm, and bucket bushings to help deliver unsurpassed long-term durability. Both models also come equipped with rubber tracks.
Those operators looking to expand their equipment utilization can look no further than John Deere's Worksite Pro attachments. A manual wedge-style quick-coupler speeds switchover, going from buckets to other attachments in minutes. Previous D-Series attachments will work on both the 17G and 26G too.