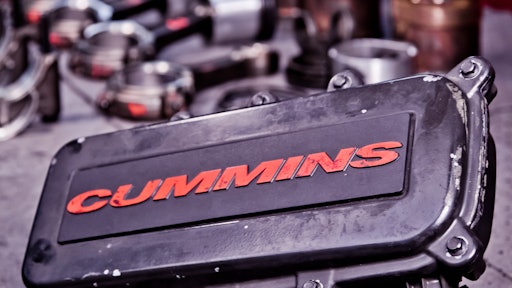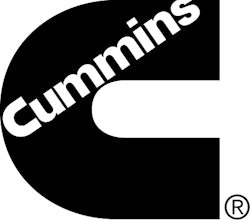 Cummins announced during INTERMAT 2015 the results of a Tier 4 engine tear-down inspection undertaken to assess the in-service durability and achievable life-to-overhaul compared with the Tier 3 version of the engine. The disassembly and in-depth examination of a QSL9 Tier 4 low emissions engine at close to 10,000 operating hours revealed major components, fuel system, turbocharger and the block to be in near-perfect
condition after three years of operation in a heavy lift-and-carry application.
The Cummins engineers who conducted the tear-down inspection concluded that the Tier 4 Interim (Stage IIIB) compliant QSL9 was capable of achieving up to 20,000 hours of operation before an engine overhaul may have been expected – equal to that of a Tier 3 version of the engine working on a similar duty cycle. The evaluation confirms that Tier 4 engines with low-emissions technology provide the same inherent durability as demonstrated by their simpler Tier 3 engine predecessors.
"Cummins' design philosophy is to utilize only proven technologies and components we know will meet the in-service reliability and long-term durability demanded for the toughest equipment applications – and the advantage of taking this approach is reflected in the impressive results of the QSL9 Tier 4 tear-down inspection," says Hugh Foden, Executive Director – Cummins Off-Highway Business.
Upon inspection, the QSL9 engine was in such good condition after nearly 10,000 hours of operation that it could have been reassembled and returned to service without any component change or maintenance intervention.
The durability evaluation procedure for the QSL9 was extremely rigorous, with over 230 specific measurements and values taken from the stripped-out components. Prior to the tear-down inspection, the QSL9 was tested on a range of performance factors such as power delivery, fuel consumption, emissions and torque, to prove that the engine remained within acceptable tolerance levels of the original production specification.
Rated at 350 hp (261 kW), the QSL9 engine selected for the durability assessment had required only standard servicing during the three years of operation, with no repair work or unscheduled maintenance ever needed.
Like their Tier 3 predecessors, Cummins Tier 4 Final engines are designed with rebuild potential to enable an easier and lower cost overhaul. A further benefit is that the Tier 4 engines do not require any specific mid-life maintenance intervention. Cummins exhaust aftertreatment systems are equally robust, protected against the most severe shock loads and designed to achieve the same life as the engine.
Cummins QSL9 offers an ideal platform for a durability comparison, as the base engine has remained almost identical during the transition from Tier 3 (Stage IIIA) to Tier 4 Interim (Stage IIIB) and to the Tier 4 Final (Stage IV) version. The 9-liter engine is utilized in demanding applications varying from excavators and wheel loaders to crawler cranes, snow groomers and reachstackers.
Technology enhancements for Tier 4 included an Exhaust Gas Recirculation (EGR) system and Cummins variable geometry turbocharger (VGT). For Tier 4 Interim, a Diesel Particulate Filter (DPF) system was used. For Tier 4 Final a Selective Catalytic Reduction (SCR) system is used in combination with a Diesel Oxidation Catalyst (DOC). All of the aftertreatment systems function automatically, and require no operational intervention.