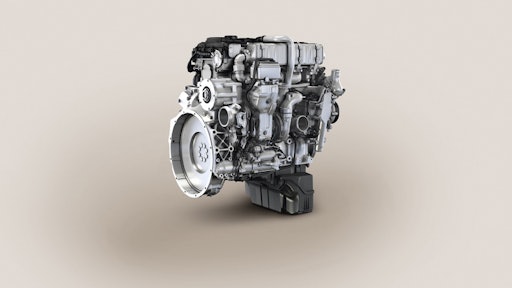 Rolls-Royce is presenting the MTU engine portfolio for the C&I market at the INTERMAT international construction trade fair in Paris April 20 through 25, 2015 (Hall 5b, Booth K 027). MTU Series 1000 to 1600 engines cover a power range from 100 to 730 kW and have been specifically developed to meet stringent requirements in terms of reliability, economy and low exhaust emissions in off-highway applications. These engines are compliant with the EU Stage IV and EPA Tier 4 emission standards. The MTU brand is part of Rolls-Royce Power Systems within the Rolls-Royce Land & Sea Division.
Series 1000 to 1500 
For the power range below 560 kW, MTU is presenting a Series 1000 four-cylinder in-line engine and a Series 1300 six-cylinder in-line engine. Based on Daimler commercial-vehicle engines, Series 1000 to 1500 were developed specifically for power-intensive applications in the construction, industrial and agricultural sectors. They meet the requirements of the EU Stage IV and EPA Tier 4 emission standards thanks to exhaust gas recirculation and an SCR system. The engines with power outputs from 100 to 460 kW are used in mobile cranes, haul trucks, wheel loaders, road-building machines, telescopic handlers and underground mining vehicles. 
With these Series, MTU offers its OEM partners a robust and space-saving system that can be integrated into vehicles with a minimum of fuss thanks to standardized mechanical and electronic interfaces. Mobile machinery manufacturers and end-users benefit from this reliable and economical solution: fuel consumption is significantly better and service life longer than the predecessor engines, higher torque at low engine speeds, plus quick and easy maintenance. For markets with less stringent emission requirements, MTU still offers its tried-and-trusted Series 900, 460 and 500 engines covering a power range from 75 to 480 kW. 
Series 1600
In addition, MTU is presenting a Series 1600 ten-cylinder engine at the Intermat show. MTU developed this Series as a fully independent off-highway engine family for the power range from 560 to 730 kW. It fulfills the EPA Tier 4 emission limits thanks to high-pressure common-rail injection, two-stage charging and cooled exhaust gas recirculation. Series 1600 engines can be used in a wide range of off-highway applications in construction and industry, from agricultural vehicles and road-building machines to mining drills and medium-size haul trucks.
Comprehensive service program
The MTU portfolio is rounded off by the MTU ValueCare service programme, including customized maintenance solutions, genuine spare parts and remanufactured products. MTU ValueCare service products ensure maximum availability, reliability and efficiency over the entire product lifecycle. With over 1,200 service points around the globe, MTU can provide the individual support users need.
OEMs with MTU engines at Intermat
MTU engines will also be on show at the booths of several OEM partners at INTERMAT – installed in a range of new vehicles: Bomag (Hall 5a, Booth D 137) is unveiling its new BM 2000/75 cold planer, which is powered by a 10-cylinder Series 1600 engine with a power output of 567 kW. In addition, Bomag is showcasing the BM 1000/35 planer with a 260 kW MTU 6R 1000 engine and the 600/700 finisher with a 129 kW MTU 4R 1000 engine. Bell Equipment (Hall 6, Booth C 109) is presenting a prototype of its B50E haul truck, which is powered by a six-cylinder Series 1300 in-line engine from with a power output of 390 kW. Also on show at the Bell booth is a B30E haul truck with a 260 kW MTU 6R 1000 engine. Hidromek (Hall 6, Booth L 045) is presenting a wheel loader for the first time, powered by an MTU 6R 1100 engine with an output of 280 kW. Magni Telescopic Handlers (Hall E5, Booth C 004) is unveiling two new rotary telescopic handlers for the first time: Magni's RTH 5.35 S with a lifting height of 35 m is the world's highest rotary telescopic handler ever to hit the market. It is powered by an MTU 4R 1000 engine with an output of 170 kW. The RTH 5.26 S also features an MTU 4R 1000 engine, in this case with a power output of 129 kW. Manitou (Hall 5b, Booth F 015) is presenting a new rotary telescopic handler: the MRT3255 is powered by a 4R 1000 engine with 170 kW.