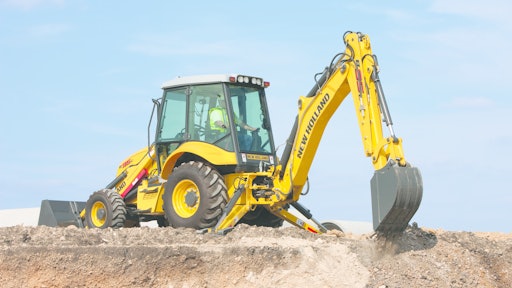 New Holland Construction's new C Series loader backhoes and tractor loader feature Tier 4 Final emissions-compliant engines, improved engine response, fuel efficiency and serviceability, and an optional auto-ride control. The lineup includes the B95C, B95C TC, B95C LR and B110C loader backhoes and the U80C tractor loader.
"These machines deliver the power and torque needed to get any digging, loading, trenching or pushing job done faster," says Paul Wade, New Holland Construction Marketing Manager. "The new engines in these machines not only meet the strict Tier 4 Final emissions standards, they improve fuel efficiency without compromising engine performance."
Tier 4 Final engines: increased performance using less fuel
C Series with Tier 4 Final engines deliver the power and torque needed to dig, load, trench or push faster, while reducing the impact on the environment.
The new C Series loader backhoes and tractor loader feature Tier 4 Final emissions certified diesel engines, ranging from 97 gross hp (72 kW) to 110 gross hp (82 kW). The engines leverage SCR technology. SCR is a cool-running, quiet system that's separate from the main engine function and does not compromise horsepower or torque. It does not interfere with engine performance but, in fact, actually improves it. The SCR aftertreatment requires an easy-to-use additive.
Thanks to the cutting-edge SCR system, engines benefit from significantly better fuel economy and more power and torque. One of the principal benefits of SCR technology is that it does not place any additional demands on the cooling package, which means that zero power is diverted to cool the exhaust gas.
Optional Auto Glide Ride control
The C Series feature an optional Auto Glide Ride control. Previously reserved for wheel loaders, this feature makes operation easier by helping to reduce spillage even when operating at increased speeds, and allows the operator to set the engagement speed. When the operator is traveling at a slower speed, such as pushing into a soil pile, the ride control system automatically shuts off.
Easy serviceability
The ease of serviceability on the New Holland C Series provides maximum uptime and profit. The tilt forward hood is easy to open, and provides wide access with low effort for routine maintenance needs.
C Series loader backhoes: long reach, tool carrier loader backhoe models
The C Series loader backhoes continue the New Holland tradition of superior power, performance and serviceability. With backhoe bucket breakout forces of 12,933 lbs.-ft. (5,5740 kN) and lift capacities at 12 ft. (3.66 m) of 3,940 lbs. (1,785 kg), New Holland C Series loader backhoes excel in tough conditions, making these machines ideal for job tasks such as digging trenches or placing pipe.
The C Series loader backhoes include the B95C LR (long reach) and B95C TC (tool carrier) models. The B95C LR combines the compact size of the B95C with the longer stick of the B110C and provides excellent dig depth, reach and fuel consumption. Ideal for material handling use, the B95C TC delivers true self-leveling to the loader both up and down.
A full range of attachments for the C Series loader backhoes is available from New Holland Construction, including augers, booms, forks, hydraulic hammers and rakes. An optional auxiliary hydraulic circuit can be used with a mechanical quick-attach system or an electro-hydraulic quick coupler for fast and easy hookup to many attachments.
C Series tractor loader: easy self-leveling and loading
The U80C tractor loader features automatic hydraulic self-leveling and its curved boom design places the bucket closer to the front of the machine allowing the operator to place loads exactly where desired. The unique reverse mounted boom cylinders enable maximum bucket breakout force and superior dump speed on the bucket.
The rugged Category II 3-point hitch with adjustable sway control, controllable down pressure and optional dual tilt cylinders provides best-in-class scraping and leveling performance while the smooth synchromesh with power shuttle lets you make smooth direction changes between the four forward and four reverse gears.