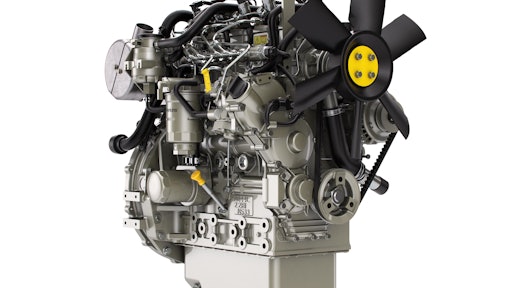 Perkins' new 404F-E22TA, an engine designed to meet U.S. EPA Tier 4 Final emissions standards, will make its North American show debut at ICUEE on September 29 to October 1. This compact, four cylinder model heralds a new era for the 400 Series range, as it is the first time that common rail direct injection and full authority electronics feature on an engine of this size.
Exhibited by leading Western U.S. distributor Perkins Pacific of Portland, OR, at booth N3303, the new turbocharged aftercooled 2.2 liter model is targeted at compact equipment manufacturers, especially for construction applications. It will be produced at a Perkins manufacturing plant in Griffin, GA.
While the new model retains many of the features that have made the 400 Series the first choice for many Original Equipment Manufacturers (OEMs) globally, it is the addition of the common rail fuel system and full authority electronics that will provide a tangible and marked increase in performance and allow OEMs greater flexibility in tailoring the engine to specific applications. It also allows OEMs to use a smaller displacement engine in machines where traditionally engines up to 2.9 liters may have been the norm.
Performance from the 404F-E22TA has been boosted to 67 hp with a maximum torque of 208 Nm at 1,800 rpm, while rated speed is up to 2,800 rpm. OEMs also have the option of a turbocharged non-aftercooled model, offering up to 48 hp.
As a result operators and end users will experience better load acceptance, good transient response and overall smoother operation from machines equipped with this top-of-the-range 400 Series model.
However, the uplift in performance has not come at the expense of fuel consumption. Real life testing has shown a 7% improvement in specific fuel consumption (SFC) previously gained at Tier 4 Interim. This has been aided by better heat rejection enabling lower fan speeds.
The compact package size and sleek engine architecture, featuring a rear-mounted small diesel oxidation catalyst (DOC), allows OEMs to adopt no-compromise machine designs across many construction applications including skid steer loaders, compact wheeled loaders, hydraulic excavators and rollers.
"The launch of the 404F-E22TA represents a significant evolution for the 400 Series. For OEMs in the compact machinery market it offers some compelling advantages, not least of which is the ability to transform how their machines perform and operate," explains Kate Theobald, 400 Series Product Marketing Manager.
"The sheer flexibility of this engine in terms of machine integration is a real step-change and the benefits for OEM customers will be tangible and welcomed. Performance aside, we have also managed to improve SFC, lower noise and retain the compact dimensions that are so necessary for this sector," she adds.
Also on display at ICUEE in booth N3303 will be a line of Perkins powered mobile generators from Southwest Products, designed to supply highly reliable power in construction and industrial applications.