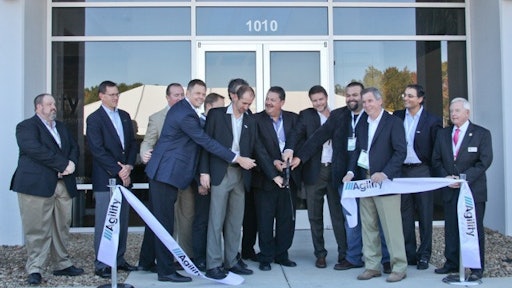 Agility Fuel Systems celebrated the opening of its new manufacturing plant in Salisbury, NC with a ribbon cutting ceremony to which more than 300 guests attended. William Nowicke, COO and interim CEO, and Shawn Adelsberger, Director of Operations and Plant Manager were joined by Paul Woodson, Mayor of Salisbury and Gregg Edds, Chairman of Rowan County Board of Commissioners, to commemorate the occasion.
"Agility's investment in this facility demonstrates our deep commitment to the development and adoption of natural gas as a transportation fuel in the heavy-duty vehicle industry. Our new 204,000 sq. ft. facility is the first truly vertically integrated natural gas fuel system manufacturing plant in North America and is a game changer for our industry. From the raw aluminum and steel for the frames and covers to the resin and carbon fiber for the cylinders, to installation onto the truck, Agility will now have complete control in one location over the quality, cost, and delivery of our natural gas fuel systems to our customers," said Nowicke.
Speakers at the event highlighted how the new facility will have a positive impact on the community and the natural gas industry.  
"Salisbury is proud to partner with Agility Fuel Systems on this new facility, bringing jobs to our community and producing a clean technology product that has a positive environmental impact," said Mayor Woodson.
Edds welcomed the company to the community and stated, "I am here as a representative of the great people of Rowan County to thank you for picking our county, investing in our people and our community."
The new facility will be the industry's first vertically integrated natural gas fuel system production facility, ensuring best in class products, quality cost and lead times. It marks the transition in Agility's manufacturing footprint from Kelowna, Canada to the new plant in North Carolina that will happen over the next six months. Kelowna will remain as Agility's Technical Engineering center for the company.
The Salisbury plant capabilities will include:
CNG Cylinder Production: In-house manufacturing of lighter and higher capacity cylinders
Fabrication: Equipped with the latest Computer Numerically Controlled (CNC) laser and metals fabrications technology to ensure exacting dimensional control guaranteeing the best quality
Paint Shop: An automated paint shop with both powder and wet-coat capabilities to ensure the highest quality and finish consistent with truck and bus OEM requirements
Assembly: Designed for maximum flexibility in assembling different fuel system configurations for a wide range of customers' requirements and applications
Installation: Multiple flow-through bays to maximize installation efficiency for a variety of vehicles and system configurations, with fueling capability onsite
"With this facility, which represents a $20 million dollar investment, we will be able to meet and exceed the most stringent product requirements that our fleet customers, dealers and OEMs demand. We want to thank all of our suppliers, contractors and employees for making this plant a reality. We are excited by the prospects for our company and the natural gas industry," said Nowicke.