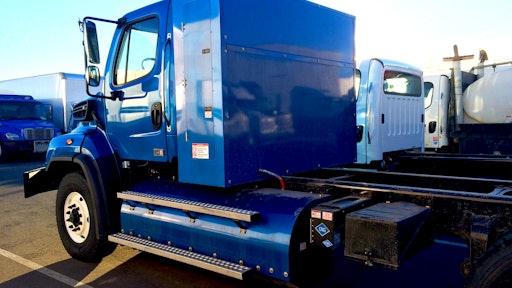 McNeilus Truck & Manufacturing Inc., an Oshkosh Corporation company, announced an expansion of its industry-leading McNeilus NGEN Compressed Natural Gas (CNG) system offerings with a new high capacity back-of-cab CNG configuration that provides 88 diesel gallon equivalents (DGEs) packaged in a low profile design. 
"The new McNeilus 88 DGE system offers another lightweight, high-capacity option for municipalities and construction vehicles with dump body configurations that require a lower profile," says Lucas Crist, Project Engineer at McNeilus. "It provides customers with the benefit of all the needed capacity for a full day's work in a single module."
Ideal for fleets with Class 7 and Class 8 trucks, the NGEN brand system uses an exclusive, streamlined design with 50% fewer fitting connections and 25% fewer plumbing components. Three Luxfer G-Stor Go Type 4 cylinders are used, optimizing the overall weight of the system and minimizing the height to meet low-clearance specifications. Each cylinder is fitted with a Luxfer G-Flo One-turn Valve that not only extends vehicle range by providing more usable gas at the required flow rate, but also significantly increases the filling flow rate. A dedicated pressure-relief device (PRD) system spans the full length of each cylinder and provides continuous heat protection.
The system also features a fully enclosed structure with easy access door, maintenance-friendly o-ring face seal connections and North American-manufactured CNC formed high pressure lines. Future plans to build off this new design will make the system scalable with customizable capacity options.
"McNeilus is an industry leader with more than 5,000 NGEN CNG vehicles on the road from coast to coast. We engineer a variety of mounting options and fuel capacities to meet customer needs, with new configurations constantly in development," says Brad Nelson, Oshkosh Corporation Senior Vice President and President of the Commercial Business Segment and McNeilus. "We offer only fully tested and certified configurations that are backed by a national service network and an expert team that can assist customers as they navigate the transition to CNG."
Companies in this article