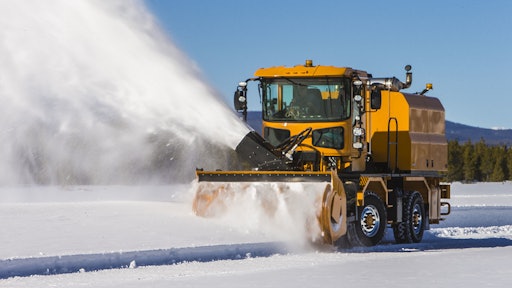 Scania has been selected as the main supplier for Oshkosh's H-Series Single Engine Blower US Tier 4f / EU Stage IV offering. These snow trucks will be operating globally at airports, municipalities, departments of transportation (DOT's), and more.
The H-Series Single Engine Blower, powered with a Scania 13- liter Tier 4 Final (T4F) engine, was recently introduced at the NEC/AAAE International Aviation Snow Symposium in late April.
"We chose Scania for several reasons. First, Scania offered us a Tier 4 Final emission solution that was SCR and light EGR, but no DPF. This was a critical requirement for our more northern customers such as Alaska. Second, Scania was able to provide us the SEB's needed hp and torque requirements in a 12-13 liter platform. Third, Scania's FEPTO (front engine power take-off) ratings allowed us to drive the hydraulic pump size we needed for the SEB hydrostatic drive system.
All in all, Scania was the best choice to meet several of our critical design requirements in the development of the SEB product. In addition, Scania has a world-wide service network to support their products and our customers. This was an important element in our decision process as well, since Oshkosh has world-wide distribution," says Les Crook, Snow Products Manager, Oshkosh Airport Products.
"We are excited to expand our partnership with Oshkosh, to include supplying engines for their industry leading snow removal equipment, also within Oshkosh Airport Products. As time progresses, we expect to find a range of opportunities where both parties can grow their businesses, and the new H-Series Single Engine Blower is a great fit." says Art Schuchert, Sales and Marketing Director, Scania U.S.A., Inc.
The H-Series Single Engine Blower meets the 2017 EPA emissions standards, allowing the vehicle to be power and energy efficient.