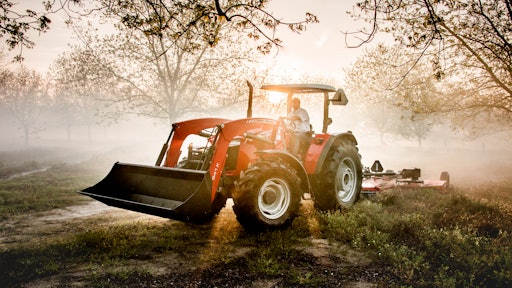 Massey Ferguson, a global brand of AGCO Corporation, expands its heavy-duty utility tractor lineup with the new 5700 and 6700 Series, offering outstanding weight and lift capacity for tractors in the 100 to 130 engine horsepower range. The tractors were introduced at the 2016 Farm Progress Show and join Massey Ferguson's recently-introduced 4700 Series to round out the new Global Series. The MF5710 and MF5711 are 100 and 110 hp tractors, while the MF6712 and MF6713 provide 120 and 130 hp, respectively.
"The 5700 and 6700 Series tractors are common-platform tractors manufactured in AGCO's newest, state-of-the-art factory, which leverages the long history of Massey Ferguson production experience with a module-oriented manufacturing approach that standardizes components, lowers costs and improves product quality and performance," says Warren Morris, AGCO Tactical Marketing Manager. "They join the 4700 Series within our new Global Series offering which began with a blank sheet of paper and input from thousands of customers. The entire line will be marketed worldwide and each model is built to perform in the most demanding environments."
The 5700 and 6700 Series are no-nonsense, durable machines with the weight, power and versatility to handle the toughest jobs. These hard-working tractors offer a level of styling and ergonomic design typically found in premium-priced products and are a strong addition to Massey Ferguson's robust offering of utility tractors. In addition to their brawn, they feature simple, intuitive controls, making them very easy to use. They are equipped with cabs that provide top-of-the-line visibility and comfort with extremely low noise levels.
The 5700 Series equipped with 4WD with a cab weighs in at 9,840 lbs., and features a three-point lift capacity of 7,716 lbs., full-stroke at 24 in. and maximum lift capacity of 8,664 lbs. at 24 in. The 6700 Series 4WD cab tractors boast a weighty 10,392 lbs., and have lift capacity of 9,392 full stroke at 24 in., with a maximum lift of 10,582 lbs. at 24 in.
"That weight means more stability and more versatility in terms of the types of jobs you can do, and the types of implements that are available," Morris explains. "We expect these machines to be very popular with hay producers, dairy and livestock operations and smaller farms that need heavy-duty performance without the extra features, bulk and price tag of larger, more premium tractors."
Proven, low-maintenance emission controls allow top engine performance
Both the 5700 and 6700 Series are powered with AGCO Power 4.4L 4-cylinder Tier 4 Final compliant diesel engines, equipped with high-pressure, common-rail direct fuel injection, along with a turbocharger and intercooled intake air. A Selective Catalytic Reduction (SCR) emission system allows the engines to operate at their peak performance without exhaust gas recirculation (EGR) components or a diesel particulate filter (DPF) which requires fuel- and time-consuming regeneration maintenance.
All models are available in 4WD with a 12FX12R, 2-range Power-Shuttle with electro-hydraulic shuttle lever. A factory-installed creeper also is available. For operators seeking a more basic tractor, select models are available with 2WD or a 12FX12R 2-range Syncro-Shuttle transmission. All four models in the two new series are factory-equipped with radial tires for increased stability under load, reduced compaction in the field and a better ride for increased operator comfort.
Big tractor hydraulic performance in utility tractor categories
The Global Series 5700 and 6700 tractors are open center, dual pump machines with 25.9 gpm total flow to the rear hydraulic remotes. They come standard with two factory valves and an optional third valve may be dealer installed.
The tractors are equipped with a standard 540/1000 PTO, including an optional energy-saving mode on the 540 system. Other amenities of the 5700 and 6700 Series include a 12V, 80 amp alternator, a 7-pin trailer socket and an optional 30-amp auxiliary power socket.
Global development and manufacturing sets new industry standards
The Massey Ferguson Global Series of 4700, 5700 and 6700 Series utility tractors are the result of the largest single manufacturing and new product project in AGCO's history. Based on extensive Voice of Customer research, the product leveraged AGCO's worldwide resources and multi-national engineering expertise in the development of these new tractors. The results are tractors with 21st century design and manufacturing standards, reliable operation and a broad range of power, specifications and options to suit the needs of customers around the world – all backed by AGCO's global Parts and Service support and a network of approximately 3,000 distributors and dealers worldwide. For the North American market, the Global Series tractors are manufactured in Changzhou in China, AGCO's newest manufacturing facility.