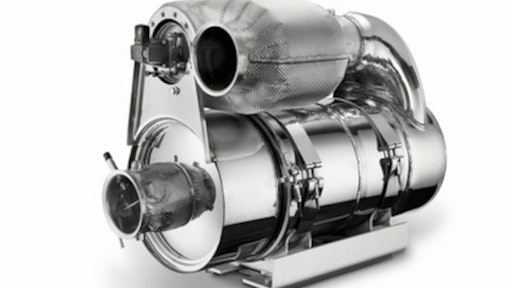 Tenneco announced at the 2016 IAA Commercial Vehicles show that it is supplying aftertreatment technologies to MAN Truck & Bus for its compact 12.4 L, six-cylinder diesel engines. The MAN engines are installed on the high-horsepower Fendt 1000 Vario tractor and the CLAAS JAGUAR 980-930 forage harvesters, both of which are destined for the global market.
Tenneco has developed a compact and modular solution including the SCR converter, muffler and pipes, as well as the company's proprietary advanced mixing technology. This provides MAN's customers with greater flexibility in complex assembly situations where space is limited. An innovative mixer layout, optimized for space saving while capable of accommodating the urea dosing quantities required for high-horsepower engines, completes the modular system.
"We are delighted to supply MAN with aftertreatment systems for engines that meet the demanding needs of these robust, high-performance global vehicles," says Alejandro Quiroz, Vice President and General Manager, Europe Clean Air, Tenneco. "We welcome the challenge of solving customer problems with innovative and flexible solutions that not only help reduce emissions, but also contribute to engine performance while solving the most demanding packaging requirements."
The modular system was designed and developed at Tenneco's research and development and advanced engineering center in Edenkoben, Germany, where the units are manufactured with state-of-the-art commercial vehicle component production capabilities.
Companies in this article