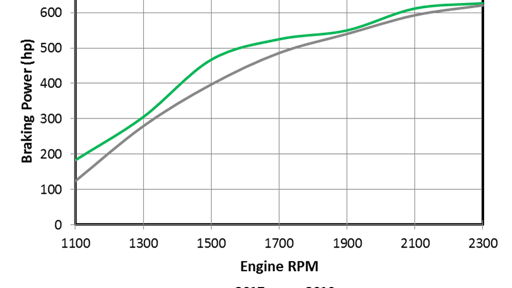 Jacobs Vehicle Systems, the world's leading manufacturer of diesel and natural gas engine retarding systems and valve actuation mechanisms, announces the optimized engine brake for the 2017 Cummins X15 engine.
Jacobs' and Cummins' engineers have once again raised the bar by improving the already industry-leading performance of the integrated Jake Brake for the 15 L engine. Launching now, the model year 2017 X15 engine offers the highest level of engine braking performance for heavy-duty engines in North America.
The 2017 X15 capitalizes on the optimization of the VGT and the braking cam to deliver approximately 10% additional braking power at engine speeds under 1,700 rpm, compared to that of the 2010 ISX15. At a typical engine speed of 1,500 rpm, drivers can now rely on 450 hp of braking power to provide confidence and driver control while in traffic or descending a hill. With a simple downshift to increase the engine speed, the engine brake in the X15 Performance Series will deliver a retarding force of up to 600 hp of braking at 2,100 rpm. The X15 braking performance continues to be best-in-class for heavy-duty engines in North America.
"Cummins was Jacobs' first engine brake customer in 1961. Over 55 years later, we continue to innovate through collaboration among our engineering teams using all engine systems available to maximize engine braking," says Steve Ernest, Vice President, Engineering and Business Development. "When the pioneers and global leaders of engine brakes combine efforts with world-class diesel engine designers, we drive constant innovation and evolution of technologies that deliver performance and value to the customer. With the Cummins X15, equipped with an integrated Jacobs Engine Brake, truckers will experience safer travel and the improved comfort they demand, while reducing the wear of foundation brakes, downtime and service costs."
Companies in this article