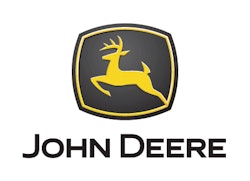 John Deere Power Systems announces engine engineering leadership changes in response to the planned retirement of a vice president.
Michael Weinert has elected to retire after 42 years of distinguished service at John Deere, effective May 3. Weinert is Vice President Engineering and Manufacturing, John Deere Power Systems.
"Mike has over four decades of accomplishments with John Deere, including management roles at four engine factories. Mike was named director engine engineering in 2003, and vice president engineering and manufacturing in 2010. He has been involved with the John Deere emissions journey since the development of Tier 1/Stage I emissions-certified engines, providing key leadership in the John Deere emissions journey to Final Tier 4/Stage V," says Pierre Guyot, Senior Vice President for John Deere Power Systems.
Subramani appointed global director, engine engineering
With the pending retirement of Mike Weinert, Mani Subramani has been appointed Global Director Engine Engineering, John Deere Power Systems, effective May 1. In this new position, Subramani will provide overall strategic direction and leadership for the development of John Deere diesel engines.
"Mani's technical and leadership experiences make him well suited to lead the engine engineering organization and the development of new engine programs," says Guyot.
Subramani began his career with John Deere in 1999. During his 20 years of service, he has held roles of increasing responsibilities within engine engineering. In these positions, he led the transition of engines from US/EU Tier 2/Stage II through Tier 4/Stage V and global (Brazil, China, India) emissions compliance. For the last several years, he served as engineering manager for new engine programs and continuous improvement of engines in production. Prior to John Deere, Subramani worked for another engine manufacturer.